Energy Bar Recipe
At $2 per bar, products like PowerBar can really take a bite out of your wallet. Of course they are incredibly convenient to buy and eat. Can you really make these at home?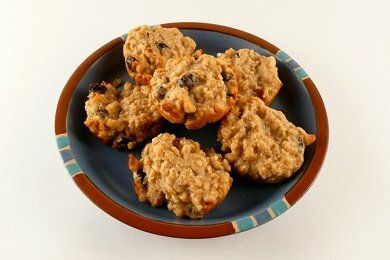 Recreating an actual PowerBar would be pretty difficult. But, it is possible to bake something that will have a similar effect to the sugar and complex carbohydrate found in a PowerBar. If you want the added vitamins, just take a multi-vitamin after you eat your homemade energy bars.
For the price of a bag of flour, oats, and raisins, you can have 24 bars for about the cost of 2 packaged energy bars. Is this savings worth your time? If you make $100 an hour, probably not, but the rest of us could use the money.
How do you make them? The big trick is to use muffin tins in which to bake them. Using a shaped tin allows you to make a portable snack (without the mess of having to cut up a larger "cake"). They contain sugar, flour, oats, and raisins so they will keep you going when you are really hungry. But, they won't keep fresh for months like a PowerBar.
After you bake the energy bars, place them in a plastic bag and freeze them to keep them fresh. Then take them out when you are ready to eat them.
These energy bars are adapted from a great kids cookbook. Molly Katzen's, "Salad People", is for preschoolers and older. It is a great choice for easy kid activities. Of course, then there is the mess....
---
$17.99 Buy on Amazon.com
As an Amazon Associate I earn from qualifying purchases.
---
Homemade Energy Bars
24 bars

Non-stick spray for pan
1 3/4 cup all-purpose flour
2 cups rolled oats
2/3 cup brown sugar
1/2 cup raisins
1/2 teaspoon salt
1/2 teaspoon cinnamon

1 1/2 cups plain yogurt
1/4 cup canola oil

Preheat oven to 375 F. Spray 24 muffin cups with non-stick spray Mix dry ingredients together with hands and then add wet ingredients. Mix thoroughly until combined. Place approximately 1 1/2 tablespoons of the batter in each muffin cup. Bake for 12-15 minutes.
---
Want more like this?
What TO Have for Breakfast
Better and Faster than A Bowl of Cold Cereal
When 100% Whole Grain Means Nothing
How to Replace Butter without Sacrificing Flavor