Agave Nectar: of Gods or of Hype?
Yes, folks, Snack Girl FINALLY bought some agave nectar. Why the resistance? Well, I have one gallon of local maple syrup in my fridge.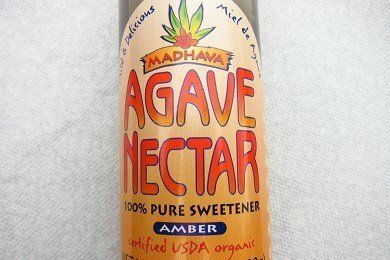 I was pushed over the edge by a reader, Kathy. She wrote:
My question is, is agave nectar healthy? Because when I was searching for agave nectar substitutes (I could've used honey), I found an article saying that agave is more processed than high fructose corn syrup. What do you think Snack Girl?
So, photographed above is my $4.50 bottle of agave nectar and slurrrppp I am giving it a try right now! Sadly, agave nectar tastes nothing like tequila (also made from agave plants).
Here are the nutritional facts for agave syrup:
one tablespoon = 60 calories, 0 g fat, 16 g carbohydrates, 0 g protein, 1 g fiber, 0 mg sodium, 2 Points+
Here are the nutritional facts for sugar:
one tablespoon = 49 calories, 0 g fat, 12.6 g carbohydrates, 0 g protein, 0 mg fiber, 0 mg sodium, 1 Points+
It does have one gram of fiber which is unique - but I don't think it is such a significant difference that I would buy it instead of maple syrup or sugar.
I decided to ask an expert about agave syrup because I couldn't figure out what was so special. Roger Clemens, DrPH (not the pitcher) was kind enough to answer a few questions.
He has more than 25 years of experience in the food industry and academia, 40 peer-reviewed publications, and is currently and adjunct professor at USC.
Snack Girl: Is the processing of agave syrup similar to the processing of cane sugar?
Roger Clemens, DrPH: Evidence indicates the composition of agave syrup, cane sugar, and even high fructose corn syrup are quite similar.
Agave syrup is extracted from a cactus, where cane sugar is extracted from sugar cane. While the extraction processes differ, the end result is quite similar.
Snack Girl: Is there any health reason to reach for agave syrup instead of cane sugar when sweetening food?
Roger Clemens, DrPH: There is not any compositional difference, or physiological response difference between agave syrup, cane sugar, or high fructose corn syrup.
Each of these sweeteners contain a similar blend of glucose and fructose (also known as single or monosugars) and sucrose (also known as di-sugar or di-saccharide).
Snack Girl: Why do you think agave syrup has grown in popularity?
Roger Clemens, DrPH: The popularity of this sweetener has grown because it is considered "natural". There is no regulatory definition of natural. In fact, each of these sweeteners, agave and sucrose, occur naturally in nature (plants; just different plants).
Snack Girl: What is your favorite snack?
Roger Clemens, DrPH: My favorite snacks include iced tea and various tree nuts (e.g., almonds, walnuts) and Virginia or Georgia peanuts.
Thanks, Roger, I LOVE Georgia peanuts.
So, his conclusion is that the buzz about agave syrup is hype! The only research I could find that was positive was funded by the agave syrup industry - and I don't find that to be trustworthy.
On the other hand, agave syrup is tasty and I like to use it to sweeten my smoothies because it is easier to pour and has ZERO maple flavor (which I don't always like in my drink).
When used in moderation, all sugars are fine. Our problem as a culture is that sugar is in everything and we NEED to reduce our intake.
---
Want to read about snacks?
A Refreshingly Sweet Zero Calorie Beverage With No Artificial Sweetener
Why Watermelon Makes Us Feel Good
Think Like A Vegan And Make Jicama Slaw
Can You Get A Healthy Meal Here?