Think Like A Vegan And Make Jicama Slaw
Snack Girl listens to her readers and recently one (Danny) asked me to feature jicama. So, I decided to see if I could find it and figure out what to do with it.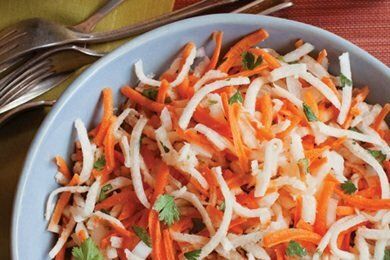 Well, it turns out that they sell jicama at my local Stop & Shop (who woulda thought?). AND, I received a wonderful book - Vegan Family Meals by Ann Gentry with a jicama slaw recipe. Crazy, no?
The photo above is hers and represents the wonderful photography though out the book (just a wee bit jealous). The book, as the title suggests, is vegan and is full of new foods, flavors, and recipes to make vegan cooking accessible.
There is a bunch of ingredients in this book that I haven't worked with before such as tempeh, vegan mayonnaise, and JICAMA! And, I am excited to give these a try as my family moves toward eating less meat.
(yes, we are on the less meat = healthy planet and body train)
Here is a photo of jicama so you can identify it in your produce section: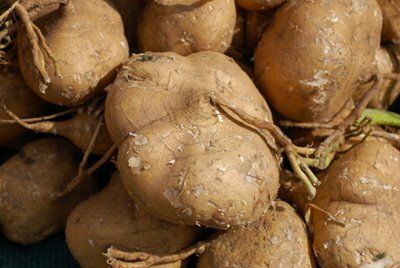 When choosing jicama at the store, look for medium sized, firm tubers with dry roots. Jicama will keep in your refrigerator for up to two weeks.
The flesh is crunchy, mild, and even faintly sweet, and is often served with a little lime juice and chile powder to accompany Mexican dishes. This recipe is a bit more dressed up - check out those colors!
Have you cooked with jicama?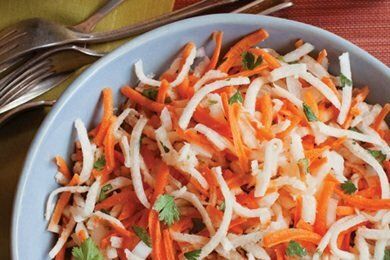 Jicama-Carrot Slaw Recipe
Reprinted with permission from Vegan Family Meals by Ann Gentry/Andrews McMeel Publishing
"Quick, easy, cheap"—those are three words you sometimes want to hear in your kitchen, and they describe this fresh slaw perfectly.
Serves 6 to 8 (makes about 4 cups)
Ingredients
2 tablespoons lime juice (1 lime)
1 tablespoon agave nectar or pure maple syrup
1 tablespoon apple cider vinegar
½ teaspoon fine sea salt
¹⁄8 teaspoon chili powder
1 (1½-pound) head jicama, peeled and coarsely shredded (about 4 cups)
1 medium carrot, peeled and coarsely shredded (about ¼ cup)
½ small white onion, finely diced (about ½ cup)
3 tablespoons minced fresh cilantro
Instructions
Whisk the lime juice, agave nectar, vinegar, salt, and chili powder in a large bowl to blend. Add the jicama, carrot, onion, and cilantro and toss to coat with the dressing. Cover and refrigerate until cold, tossing occasionally, about 1 hour.
Nutrition Facts
For one serving (out of 6): 60 calories, 0.1 g fat, 14.2 g carbohydrates, 1.0 g protein, 6.0 g fiber, 169 mg sodium, 1 Points+
Points values are calculated by Snack Girl and are provided for information only. See all Snack Girl Recipes
$25.00 $12.79 Buy on Amazon.com
As an Amazon Associate, I earn from qualifying purchases.
---
Want to read about snacks?
CLIF BAR Vs. SNICKERS: Are They BOTH Candy Bars?
Why Watermelon Makes Us Feel Good
Can You Get A Healthy Meal Here?
A Fruit You Just Gotta Try
---
Get Free Email Updates! Yes please!
---