A Visit to the Almond Harvest
Sometimes I get to do some really fun stuff because I am Snack Girl.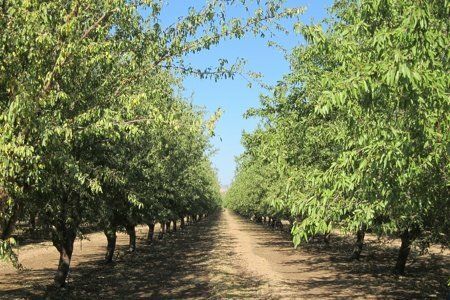 I spent a few days in sunny California on a sponsored press trip with the Almond Board of California. I wish I could have taken all of you with me because I had a great time.
Did they put us bloggers to work harvesting almonds? Noooo. But, we did get to see some other people drive big machines that do the work.
Here is a photo of an almond on the tree – something I had never seen before: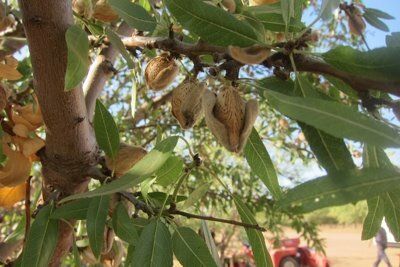 There are two layers before you can get to the actual almond. There is an outer husk that covers the almond shell. We buy shelled almonds in the store and never get to see the shell (like we do with pistachios or walnuts).
Almond hulls make commercial cow beds, the shells go to cow feed, and the almonds go to us. How about that?
My favorite part of the tour was watching the harvest. Instead of people picking the almonds off the tree, the farmer uses a "tree shaker" which shakes the tree gently and knocks all the nuts to the ground. Then, he uses other machines to pick them up and process them.
Almonds are an excellent snack because they are shelf stable and portable without any preservatives or funny stuff. If you are concerned about how many calories you are inhaling, be sure to aim for a handful of almonds (about 23) that will set you back:
160 calories, 14 g fat, 1 g saturated fat, 6.0 g carbohydrates, 1.0 g sugar, 6 g protein, 3 g fiber, 0 mg sodium, 5 Points+
And you get 20% of your daily value of magnesium, 35% of your daily value of vitamin E, and 6% of your daily value of iron.
Below is a recipe for spiced almonds which is a great way to flavor them for a game time snack.
Eat almonds not Doritos!
The Almond Board of California covered the expenses of my trip to the almond harvest. The opinions and text in this post are all mine.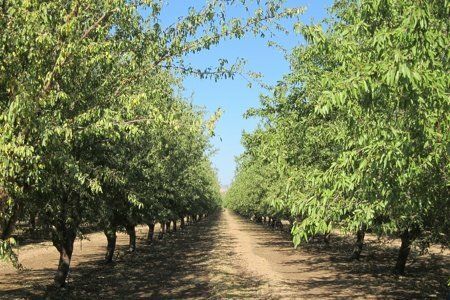 Spiced Almonds Recipe
Reprinted with permission from California Almonds
Serves 8

Ingredients
1 large egg white
2 teaspoons sweet paprika
2 teaspoons dark brown sugar
3/4 teaspoon salt
1/2 teaspoon Worcestershire sauce
1/4 teaspoon cayenne pepper
2 cups natural almonds

Instructions
Preheat the oven to 350°F degrees. Line a baking sheet with parchment paper. In a large bowl whisk together the egg white, paprika, sugar, salt, Worcestershire sauce, and cayenne pepper until well combined. Add the almonds and toss until evenly coated.| Transfer the almond to the parchment lined baking tray spread out to form a single layer. Bake for 20 minutes, until the coating is crisp. Almonds will continue to crisp as they cool. Allow to cool completely then break up any nuts that are stuck together. Nuts will keep up to 5 days in an airtight container.
Nutrition Facts
For ¼ cup serving = Calories 210; Fat 18g; Sat Fat 1.5g; Mono Fat 11g; Poly Fat 4.3g; Protein 8g; Carb 9g; Fiber 4.4g; Cholesterol 0mg; Sodium 230mg; Calcium 96mg; Potassium 264mg; Vitamin E 9.4mg; 6 Points+
Points values are calculated by Snack Girl and are provided for information only. See all Snack Girl Recipes
---
Get Free Email Updates! Yes please!
---