The First Lady Digs Up Our Lawn, Plants A Garden & Writes A Book
Before anyone gets bent out of shape, this article is not political in nature. This post is about healthy food.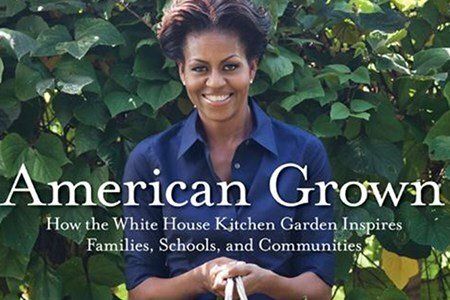 Michelle Obama has written a book about the White House kitchen garden and other community gardens around the country. The author proceeds of this book are going to the National Park Foundation.
One of the first things Michelle Obama did when she moved into the White House was plant a vegetable garden and start talking about healthy eating. She related the story of being talked to by her pediatrician about what she was feeding her children with candor.
She, like many of us, was giving her kids way too many convenience foods. Now, I guess they all go down and chew on the broccoli in their yard :)
Why do I like this book? I find the White House vegetable garden inspirational. Here in my small town, a group of people got together to put in a garden at my kid's school and I found that inspiring, too! (see: Making A Difference By Planting A Garden)
If you like gardens, or are thinking about starting one, this book is going to get you to buy a pot for your windowsill or a garden hoe. The photos are gorgeous and the stories of gardens will make you proud of the communities that have created them.
I love the story of a garden in Houston where they just put large pots on concrete! How cool is that? Instant garden.
The book includes practical information about planting a garden for all four seasons and lots of ideas for which produce to plant.
There are recipes, too, and I chose the Mac and Cheese with cauliflower to feature below. This is not a low calorie recipe, but one serving has 55% of your daily value of calcium, and 18% of your daily value of iron.
It seems simple to make and I am sure my son (Mr. Macaroni) will love this rendition.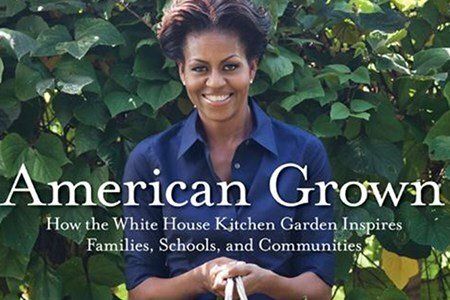 Cauliflower Mac and Cheese Recipe
reprinted with permission from "American Grown" by Michelle Obama
(SERVES 3 OR 4)
Using pureed cauliflower gives this variation on the classic mac and cheese a deliciously creamy texture without the extra fat and calories, and the whole- wheat pasta has a nutty flavor. The pasta and cauliflower can be cooked at the same time, and since you're not baking the dish, it's an easy weeknight treat. Serve it as a side; or just add a salad and you've got dinner. If you're feeding a family with big appetites, the recipe is easily doubled. —Chef Cris
Ingredients
½ pound whole-wheat penne
¼ head cauliflower, cut into florets
8 ounces sharp Cheddar cheese, shredded
1 ounce Parmesan cheese, grated
½ cup 1% or 2% milk Salt and freshly ground black pepper
1 ½ teaspoons chopped fresh flat-leaf parsley
Bring a large pot of salted water to a boil and cook the pasta according to the package
Instructions
directions until al dente. Drain and set aside.
Bring a medium pot of salted water to a boil, add the cauliflower, and cook for 5 to 7
minutes, or until soft. Drain. Place the cauliflower in a blender and puree.
In a medium pan over medium heat, place the pasta, the cauliflower puree, the cheeses, and the milk. Stir gently to combine and continue stirring until the cheese is melted.
Season with salt and pepper. Sprinkle the chopped parsley over the mac and cheese
and serve immediately.
Nutrition Facts
For one serving of 4: 465 calories, 22.1 g fat, 43.2 g carbohydrates, 2.3 g sugar, 27.2 g protein, 6.4 g fiber, 489 mg sodium, 12 Points+
Points values are calculated by Snack Girl and are provided for information only. See all Snack Girl Recipes
$30.00 $15.95 Buy on Amazon.com
As an Amazon Associate I earn from qualifying purchases.
---
Other posts you might like:
---

Everyone who reads Snack Girl is at least thinking about healthy eating. They may not be doing it right now - but they are considering it....
---

Last week, Snack Girl complained about the high price of organic produce (see: How Important Is It To Buy Organic?). This week she did something about it....
---
---
Get Free Email Updates! Yes please!
---