Amy's Frozen Meals: Are They Healthy?
The questions keep rolling in about the frozen foods aisle and I am ready to go!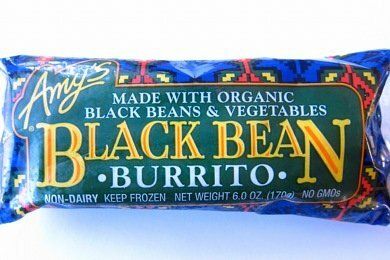 Since this review posted, I have done another Amy's Frozen Meals Review in 2016.
I am being pushed into the frozen meals section by my loyal readers. Another request came from Jahna, a college student. From Jahna:
Amy's have always seemed to be a little bit healthier alternative to most frozen meals (Lean Cuisine, etc.) but I know they are still very processed? and always have a LOT of sodium, a major problem with most prepackaged meals.
The low sodium meals options cut sodium in half -so is it a good choice for a meal??
Or still not as good as cooking yourself? I'm in college and it's great for a fast meal when I don't really want to cook all the time!
Thanks, Jahna! Actually, I didn't read her question carefully enough and I went out and bought this Amy's Black Bean Burrito because I thought it looked good. The first thing I noticed about the Black Bean Burrito was the sodium at a whopping 680 mg or 28% of your daily value of sodium. And, I found the burrito to taste good - but salty :)
BUT, the ingredients list was impeccable with organic black beans and vegetables. The great thing about frozen foods is that they use zero preservatives. They don't need them because the freezing process preserves the meal.
Every ingredient in this burrito was recognizable and healthy!
Jahna was interested in the Light in Sodium meals which include burritos, macaroni and cheese, and a Mexican Casserole bowl.
Let's take a look at what I was supposed to be reviewing. A "Light In Sodium Black Bean Enchilada"'s nutritional facts:
320 calories, 9 g fat, 51 g carbohydrates, 2 g sugar, 12 g protein, 7 g fiber, 290 mg sodium
Umm, wow.
I didn't taste it - but I might go give it a try. Again, the ingredients are pinto beans, whole wheat flour, brown rice, cheddar, etc. (you will recognize them all) and I would say this is a healthy choice.
Jahna, if these had been available when I was in college (yes, dinosaurs walked the earth at that time), I would have eaten them. They contain real ingredients, no preservatives, and have excellent nutritional value (as long as you stick to the low sodium variety).
Please share your favorite Amy's meals.
---
Other posts you might like:
---

It has been a long time since I last took a look at Amy's frozen meals.....
---

Lean Cuisine is a brand of frozen meals created by the Nestle corporation. How bad are they for you?....
---