Return To An Old Favorite Snack (With A Twist)
Sometimes we need a little inspiration to make a healthy snack. We get into snack ruts because we are super busy.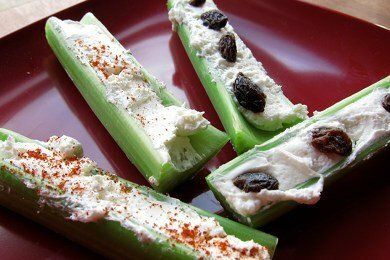 Well, check out those lovely "ants on a log" above. Don't they look yummy?
I made them with whipped cream cheese and then I added either ants (raisins) or chile powder. This last spice decision is left up to YOU. Are you in a sweet or spicy mood? Grab some cinnamon, black pepper, salt, whatever!
I used only 1/2 tablespoon of whipped cream cheese in each of these snacks. Here is the nutritional information for the whipped cream cheese:
30 calories, 2.5 g fat, 1 g carbohydrates, 0.5 g protein, 0 g fiber, 35 mg sodium, 1 Points+
A five inch stalk of celery has TWO (count 'em 1...2!) calories so you can do the math here.
Basically, you are using a wee bit of fatty goodness to eat an extremely good source of fiber. You get a great CRUNCH which may help you avoid those evil critters: potato chips.
Other toppings for celery:
peanut butter or any other nut butter (almond, cashew, sunbutter, etc.)
use dried cranberries instead of raisins
cayenne pepper or curry powder instead of chili powder
Do these things ever go out of style? I certainly hope not. Your kids won't even notice that they are eating celery if you tell them they are FROGS eating up the ants on a log.
What do you put on your celery sticks?
---
Other posts you might like:
---

After the success of last week's pickled carrots post, I thought it would be fun to talk about celery....
---

When you get tired of your apple and peanut butter, you need to go gourmet for your snack....
---