How To Avoid Wasting Carrots
Do you hate limp carrots? Do you buy a bag of carrots only to find that half of them are rotten by the time you get to eat them?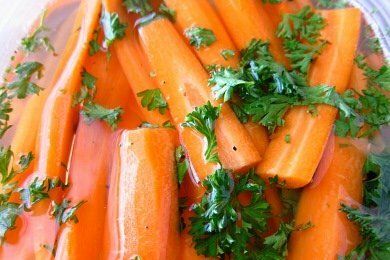 What about baby carrots? I find them to be tasteless, but I think I am in the minority on this one. Do they get soggy before you finish a bag?
Well, I have a delicious solution - pickled carrots! It is ridiculously easy to pickle carrots and then you have a lovely and low calorie snack in your fridge for an ENTIRE month (or longer).
You can't make excuses about not having time to slice carrots if you do a big batch and just leave it in your fridge. Also, you can just buy a bag of baby carrots and then you really save time in the process.
These pickled carrots can be eaten 24 hours after you make them. They have a salty, sour, and sweet taste and the pickling process really dresses up the carrots.
Serve these carrots at a party or along side your favorite sandwich. Or just grab them for a low calorie, anytime snack.
You don't have to "jar" them. Like Freezer Jam For Dummies, you can just use the fridge to store your pickled carrots so you don't have to go through the painful process of sterilizing jars and sealing them.
I used a Glad plastic container to make my pickled carrots. Any container with a top is suitable for pickling. Just be sure (for this recipe) that it can hold about 4 cups of liquid.
I used "rice" vinegar for this recipe because it has a sweet taste to it. And, I used caraway seed and crushed black peppercorns to flavor my carrots, but you can use anything you have around the house (wine vinegar, fennel seeds, dried oregano, dried basil, etc.) to flavor your pickling juice.
Once you get some experience with pickling you can adjust the seasonings for your taste.
Do you pickle? Please share your tricks below.
---
Pickled Carrots Recipe
(4 servings)

1 pound carrots (baby carrots will work)
1 1/2 cups water
1/2 cup rice vinegar (seasoned or unseasoned)
1 tablespoon sugar
1 tablespoon salt
1/4 teaspoon caraway seed
1/2 teaspoon coarsely crushed black peppercorns (optional)
1/4 finely chopped fresh Italian flat-leaf parsley leaves (optional)

Peel and slice carrots into sticks. If you are using baby carrots you can skip this step. Pour water and rice vinegar into a small saucepan. Mix in sugar, salt, caraway seed, and pepper and bring to a boil. Cook until the sugar and salt have dissolved, about 1 minute. Add the carrots and parsley. Cool to room temperature and transfer to a storage container. Can be eaten in one day or up to one month.
79 calories, 0.3 g fat, 14.1 g carbohydrates, 1.1 g protein, 3.2 g fiber, 81 mg sodium, 0 Points+
Want to read about snacks?
Simple, Delicious, and Low Calorie Smoothie Recipes from Camp Shane
Holiday Weight Gain: Fact or Fiction?
A Healthy Snack Friend In The Ice Cream Aisle
Make Winter Warmer With Apple and Peanut Butter Oatmeal