Got Apples? Try This Awesome Healthy Snack
If you read this website, you BETTER have apples in your fridge (or I'm gonna buy you some :) This is it people - apple season!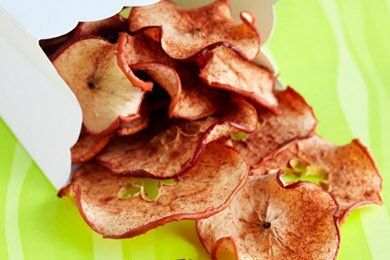 There are so many great things to do with apples. One of my favorite posts on Snack Girl is a healthy take on apple pie (see: An Amazing Apple Pie Makeover In Two Minutes)
But, how about DIY (do-it-yourself) apple CHIP? Yes, a crunchy apple chip to replace your greasy potato chip. It might not work as a replacement but it is worth a try.
I found this recipe on the Ontario Apple Growers website and they also let me use their photo. My apple chips look a bit more homemade :)
There are a couple tricks to make this recipe work. First of all, use a food processor to slice the apples thinly. It took me all of a minute to slice my apples. You don't have to peel them so there is no time issue there.
But, you need to have 2 hours on your hands to bake these things. The idea is that the apples will become slowly dehydrated and crunchy. For those 2 hours, you aren't doing anything, of course, but you still need to be around.
Also, you don't have to use sugar or cinnamon if you don't want to. I tried them without sugar and they tasted great.
These are a really fun snack for kids to make because they can "help" you sprinkle the sugar and cinnamon on the apples. And, they will love having these in their lunch boxes. Think of the novelty - "Look, I made an apple chip!"
You could also bring these to a Fall party or to a football tailgate party. You will look like a ROCKSTAR for very little effort (except for the waiting around for them to be done :)
Please share your apple snack ideas.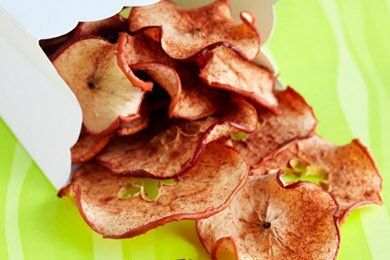 Apple Chip Recipe
makes 2 cups
Ingredients
2 large apples
2 tbsp sugar
1 tsp cinnamon
Instructions
Preheat oven to 200 F
Thinly slice apples crosswise about 1/8-inch (2 mm) thick with a mandoline or sharp knife.
Arrange apple slices in a single layer on two parchment-lined rimmed baking sheets. In small bowl, combine sugar and cinnamon. Put mixture into a sieve and sprinkle evenly over apple slices
Bake in the top and bottom third of the oven until apples are dry and crisp, about 2 hours. Remove from oven and let 'chips' cool completely before transferring to a sealed container for up to 3 days.
Nutrition Facts
For 1/2 cup serving = 82 calories, 0.2 g fat, 0.0 g saturated fat, 21.9 g carbohydrates, 17.6 g sugar, 0.3 g protein, 3.0 g fiber, 1 mg sodium, 1 Freestyle SmartPt
Points values are calculated by Snack Girl and are provided for information only. See all Snack Girl Recipes
$129.90 Buy on Amazon.com
As an Amazon Associate I earn from qualifying purchases.
---
Other posts you might like:
---

Here at Snack Girl headquarters clothing is optional (for the 4 and under set). This is also true of our pies....
---

The apple season is in full swing here in New England and I can't stop buying them. The taste of fresh apples is one of life's great joys....
---
---
Get Free Email Updates! Yes please!
---