Apple Oatmeal Muffins For Fall
Sometimes, Snack Girl goes on a food jag. Her latest is apples.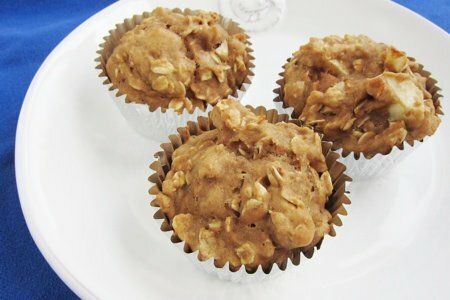 I get obsessed with a particular food and need to cook with it all the time. Perhaps it is because I have a yard with some apple trees that are looking beautiful right now.
I decided to make an apple oatmeal muffin because it sounded good and my children are always demanding muffins. Of course, the ones they want are made with twice the sugar and three times the fat and white flour. BUT, they like these - enough to stop bothering me for muffins.
These are fast to make – just one bowl – and if you are swimming in apples – you can freeze them for later consumption. I eat one with my afternoon coffee as a treat.
They are a little too sweet to have as the only food for breakfast. I would, of course, pair them with an apple and peanut butter since all I can think about is apples.
What is your favorite muffin recipe?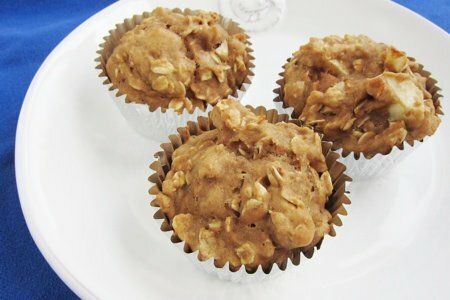 Apple Oatmeal Muffin Recipe
makes 12 muffins
Ingredients
1 cup white whole wheat flour or regular whole wheat flour
1 cup whole oats
1 teaspoon baking powder
½ teaspoon baking soda
¼ teaspoon salt
1 teaspoon ground cinnamon
½ teaspoon ground ginger
¼ teaspoon ground nutmeg
1/4 cup brown sugar, packed
1 cup unsweetened applesauce
2 tablespoons canola oil, vegetable oil, or virgin coconut oil
1 large egg
1 teaspoon vanilla extract
1 medium apple, peeled and chopped
Instructions
Preheat oven to 375 F. Line a 12 muffin tin with muffin wrappers or spray with nonstick cooking spray.
In a large bowl combine flour, oats, baking powder, baking soda, salt, cinnamon, ginger, nutmeg and sugar. Add applesauce, oil, egg, and vanilla and mix until blended. Fold in apple pieces.
Divide batter into 12 muffin cups and bake for 16-18 minutes until knife inserted into center is clean.
These can be frozen and will be fresh for one month.
Nutrition Facts
137 calories, 4.0 g fat, 25.5 g carbohydrates, 7.0 g sugar, 4.6 g protein, 3.4 g fiber, 110 mg sodium, 4 Points+
Points values are calculated by Snack Girl and are provided for information only. See all Snack Girl Recipes
Other posts you might like:
---

The orchards here in Western Massachusetts are laden with apples. It is a dreamy time of year to be in New England....
---

I know what you are thinking. How can a muffin save a life? Don't we usually use things like electrified paddles?....
---
---
Get Free Email Updates! Yes please!
---