Get Them To Smile With This Adorable Snack
There are days when I desperately want to be someone that I am not.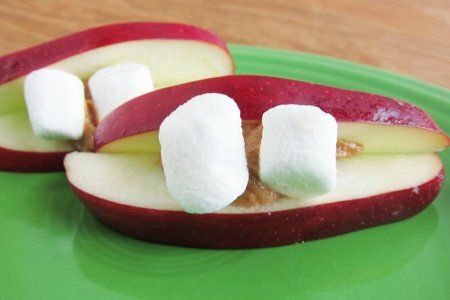 And then, other days, I get a little closer to being great.
Since I am Snack Girl, there is a lot of pressure when it is my turn to bring a snack to a children's event.
I WANT to be a parent who has time to bake perfect healthy muffins that all children will joyfully eat. Or perhaps I could peel and slice kiwifruits into little frogs.
But, I am in a hurry. I can barely find time to brush my hair on most days and I have sent my children to school with store bought cookies because I don't have time to make something.
Until now.
Behold, the apple and peanut butter (or Sun Butter if you school is nut free) smile!! What elementary school child could resist this?
All you do is buy Red Delicious apples, slice them, squeeze some lemon juice on them so they won't turn brown, add a teaspoon of peanut butter, and two little marshmallows and everyone will think you are parent of the year.
Well, maybe not "parent of the year" – that is reserved for the person who raised 2K for the school library – but you know what I mean.
These are also good for adults. I believe that these would work at any corporate board meeting where profits are up. Who needs those stale muffins?
I know there are a bunch of people out there who are stretched for time. They buy processed food because they can't manage to make anything, but a little creativity can be healthy and fun. I'm serious.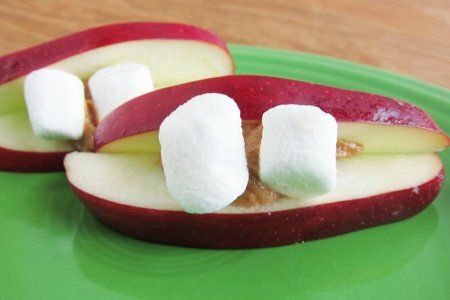 Apple Smile Recipe
Makes 4
Ingredients
1 Red Delicious apple
1 small lemon slice
4 teaspoons peanut butter
8 mini marshmallows
Instructions
Slice the apple into 8 wedges around the core and put into a small bowl. Squeeze the lemon slice on the apples to prevent them from turning brown. Put one teaspoon of peanut butter between the apple slices and add the mini-marshmallows to make a smile. Serve immediately or refrigerate.
Nutrition Facts
For one smile = 55 calories, 2.7 g fat, 7.3 g carbohydrates, 5.3 g sugar, 1.3 g protein, 1.4 g fiber, 25 mg sodium, 1 Points+
Points values are calculated by Snack Girl and are provided for information only. See all Snack Girl Recipes
Other posts you might like:
---

The orchards here in Western Massachusetts are laden with apples. It is a dreamy time of year to be in New England....
---

Halloween is arriving in a mere 12 days and it is all my kids can talk about. We are decorating the house and getting ready for the festivities....
---
---
Get Free Email Updates! Yes please!
---