Can You Find Healthy Bread In Target?
If you are like me, you live in a town near a Target that has food in it. My Target just added fresh food such as eggs, bananas, and lunch meat.
I feel a bit squeamish about buying food at the same place I buy my underwear BUT so many people have asked me what I think of Archer Farms that I decided to get over it.
Archer Farms is a Target brand that advertises a "premium food product" and their 100% whole wheat bread retails for $2.69.
While I can't cover all their offerings, I decided to take a look at their bread. Bread is one of those foods that most of us purchases and it can be tricky to figure out if we are buying the best one.
The first thing I look for is "100% Whole Wheat" or "100% Whole Grain". There is wheat bread out there that says "made with whole grain" but isn't the ideal of "100%".
The Archer Farms bread that I bought is 100% whole wheat and is much more nutritious than white bread. Here are the nutrition facts:
For one slice = 110 calories, 1.5 g fat, 20 g carbohydrates, 4.0 g sugar, 4 g protein, 3 g fiber, 150 mg sodium, 3 Points+
And the ingredients: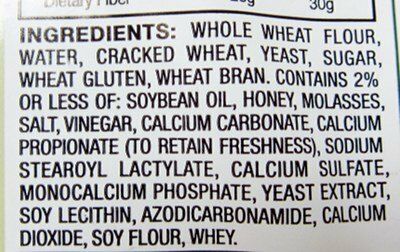 For almost any bread that you are going to find in the supermarket, Target, Walmart, convenience store, this is going to be the best you can do. Why?
Well, for some reason, it is hard to find commercial bread with lower than 4 grams of sugar per slice (I have looked) and they all have preservatives so that they are shelf stable. If you don't want "calcium propionate" in your bread, you have two options that I am aware of:
Some supermarkets have a freezer with great bread in it. The brands are Alvarado and Ezekiel and they have zero preservatives and less sugar. They don't need the preservatives since they are frozen.
Whole Foods will not allow preservatives in the food it sells.
My solution to my bread dilemma is to go to Whole Foods and buy their $3.29 per loaf "Organic White Wheat Bread" see label:
The Whole Foods bread nutrition facts:
For one slice = 90 calories, 2 g fat, 17 g carbohydrates, 2.0 g sugar, 4.0 g protein, 3 g fiber, 210 mg sodium, 2 Points+
I know many of you don't have a Whole Foods near you (mine happens to be near the Target) - so I will get complaints. But, maybe you can finds something similar near you.
Funny story. As I was waiting in the customer service line in my Whole Foods there was a lady complaining that her bread grew mold after 3 days on her counter.
Hmmmm. Did she miss the "no preservatives" credo?
I keep my bread in the freezer because it does tend to grow stuff before we can finish it if I keep it on the counter.
Please share how you have solved your healthy bread problems.
---
Other posts you might like:
---

One of the first snacks suggested for Snack-Girl was toast. It is simple, versatile, and if you choose right, a healthy choice....
---

Guess what I didn't use on my toast this morning?....
---