How To Pick Healthy Bread - A Toast to Toast
One of the first snacks suggested for Snack-Girl was toast. It is simple, versatile, and if you choose right, a healthy choice.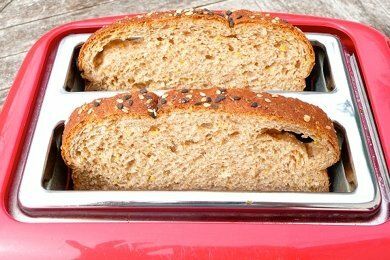 How do you find healthy bread? The rules for finding healthy bread are almost the same as cereal (see: Candy or Breakfast? Evaluate Your Cereal)
1. Is the first ingredient WHOLE grain? If it isn't then put it back on the shelf. Do not be fooled by the ingredient "wheat flour". The whole grain means that most of the nutrients remain from the grain remain in the bread. Without it, you might as well eat Wonder Bread (which is wonderful but not nutritious).
2. Does it have at least 3 grams of fiber per serving? Eating foods that are high in fiber will help keep you feeling fuller for longer. Bread is an excellent source of fiber if it is made with whole grains.
Here are two brands of bread that I found that passed the test: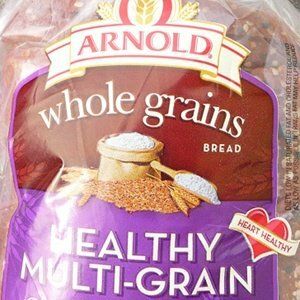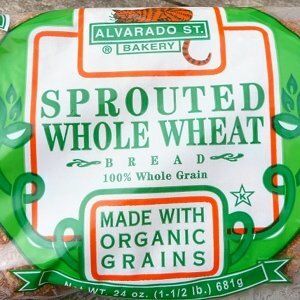 The Arnold bread was in the bread aisle and cost me $2.99 for the loaf. It was on sale from $3.99.
The Alvarado Street Bakery bread was in the "Natural Foods" section and cost me $2.89 because I had a coupon. (I LOVE coupons!!) The Alvarado bread usually costs $3.49 a loaf. It is a sprouted bread which is fantastic from a nutritional perspective.
Why is a sprouted bread better?
From the Alvarado Street Bakery website:
"We take whole, organic wheat berries and soak them in filtered water until they "sprout", until they actually begin to grow...The sprouting process naturally converts starchy grains into easily digested maltose and other complex sugars. There is enzyme activity created during germination that begins to "pre-digest" the grains, thereby making the grains and their nutrients and vitamins more readily assimilated by the body."
Basically, you are using the whole wheat berry and not grinding into a flour. You retain a bunch of nutrients!
Bread keeps well in the freezer, so if there is a sale on an expensive loaf be sure to stock up.
The Arnold brand was sweeter and lighter than the Alvarado brand which was crunchier. I liked the Alvarado bread better because it had more texture.
BUT, toast is really a vehicle for something yummy to spread on it.
What can you put on your toast? Wow, there are so many things to spread on. I like to put a bit of protein on the bread so it will give me a nutritional lift to my day. Here is a short list of suggestions:
Hummus
peanut butter
honey
cream cheese
butter with sugar and cinnamon (yum!)
avocado
sliced tomato with a sprinkle of salt

Here is a list 330 Ways to Enjoy Toast for your perusal. People get pretty crazy with their toast!
I added a link to my toaster below. It is a Cuisinart and it is SO much better than the $10 toasters I used to buy at Walgreens. It has lasted almost 5 years and shows no sign of giving out even though we use it almost every day. I LOVE this toaster.
What is your favorite brand of bread and what do you spread on it?
---
currently unavailable Buy on Amazon.com
As an Amazon Associate, I earn from qualifying purchases.
---
Want to read about snacks?
Change Your Deviled Eggs into Angeled Eggs (Low Cal Recipe)
How To Find Great Fruit and Veggies
Love Ice Cream? Try This 130 Calorie Makeover