You Need To Be A Detective To Find These Hidden Ingredients
Snack Girl is getting old and her eyes are going. Actually, I blame this screen I am sitting in front of for my inability to read labels.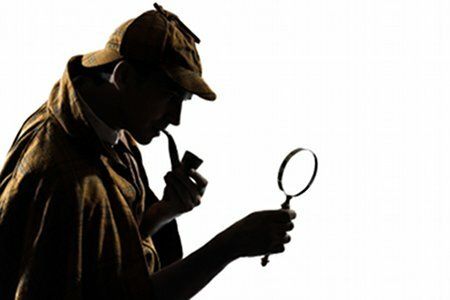 How many times do I see someone squinting at the label of a food product? Sheesh, could they make the print any smaller?
grumble, grumble, grumble......
Actually, I don't want to grumble about just the size of the type - I want to grumble about ingredients that we don't expect in certain foods. Lia brought this to my attention:
Something I have noticed lately at the grocery store that has infuriated me is the sneaking in of artificial sweeteners, particularly sucralose. I purposely avoid them at all costs and recently attempted to buy Swiss Miss hot chocolate (regular, not labeled as diet/low sugar at all), and realized that the ingredient list included sucralose.
Of course I realize this type of hot chocolate is not a healthy choice, but the last thing I expected in full-fat full-sugar hot chocolate mix is an artificial sweetener! Since then I've noticed other products that consumers would have no reason to suspect randomly have sucralose in them.
These are not products that are marketed as diet or low/reduced sugar and do not have any indication of this ingredient on the rest of the package. I'm all for the idea of "buyer beware" but this is becoming absurd.
Yes, it is infuriating! I wrote about sucralose in a Nesquick Milk Shake because I was so surprised that it was an ingredient. It is marketed to children and I thought all it needed was sugar and milk. Someone at Nestle decided that it needed sucralose as well, perhaps to make it sweeter.
Lia wanted me to come up with some tips to avoid this sucralose problem. Here I go:
Buy a trench coat, magnifying glass, and cool hat. Examine all the labels of all of the processed food that you buy.
Shop at Whole Foods where they won't sell food with sucralose or artificial colors as ingredients.
Okay, those aren't helpful ideas but it is all that I can come up with right now. Here was another one that surprised me: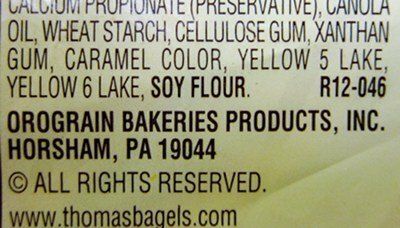 This the label of a Pumpkin Spice Bagel from Thomas that was sent to me for review. Ummmm, why does Thomas need Yellow #5 and Yellow #6 in the bagel. Didn't they add bright orange pumpkin to it?
(Don't get me started on the 10 grams of sugar per bagel.)
What is artificial color doing in a bagel? Again, I find this infuriating. It's not that I am against including artificial colors but I expect them to be in Lucky Charms and not a bagel.
How do you deal with unexpected ingredients in food? Have you figured out a way to avoid them?
This product was received for review consideration. No other compensation was provided.
---
Other posts you might like:
---

Hey, she should not be wearing a cape. Only Snack Girl gets to wear a cape!...
---

Snack Girl really doesn't want to pick on General Mills (the owners of Yoplait), but I feel I must....
---