How Aubre Lost 70 Pounds
This is Aubre and she hasn't worn a dress in over 3 years.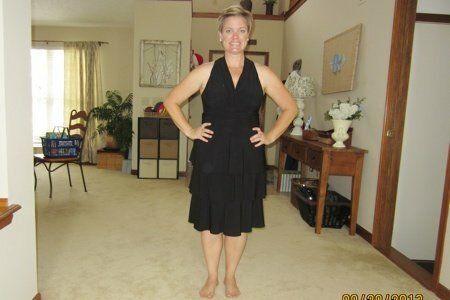 Last Sunday, she put on a dress because she has lost 70 pounds. Doesn't she look great?
I have been looking for success stories to feature and I love Aubre's story. She has had to work hard to lose the weight and she is thrilled about sharing her joy about her new self.
Snack Girl: What would you say is the biggest factor in your weight loss success?

Aubre: This is my second time losing a large chunk of weight. In 2010 I lost 60 lbs and ran my first half-marathon, but right after my run I stopped everything I was doing and went back to old habits. I stopped exercising, and started eating too much fast food and sugar. In no time all the weight was back on and more. I went from feeling so proud of myself to being embarrassed to go out. I went from feeling fit and strong, to being tired, having an achy back, and my feet were killing me from the weight.
I was overwhelmed and just gave up for about a year and half. In February of 2013 I knew I had to make a change. This time around it was even harder to get started knowing my goal was to lose 80 lbs. I honestly didn't even know how to begin and was desperate to lose the weight and get healthy for myself and my family. This time around I decided that I really needed to LEARN along the way instead of just "going through the motions" to lose the weight. I decided that I would work really hard to make this a lifestyle change for the long term.
I have made a conscious effort to learn about my triggers and how to control my overeatting, I have learned what I can and CAN NOT have in the house, I have learned about portion control and have worked hard to make fruits and veggies my main snack. The biggest success for me has been getting out of the grip of sugar and fast food. I was terribly addicted to both and was feeling helpless in getting away from them. Slowly but surely I found myself pulling away from both sugar and fast food and the more I limited them, the easier it was to stay away. I have learned this time what my trigger foods are and have steered clear of them so that I don't approach that slippery slope.
Another reason for my success has been joining a women's weight loss/Bible study group at my church. We support and encourage each other, but we also keep each other accountable and honest.
Snack Girl: You told me that you are now exercising six times per week for 60 minutes each time? What were you doing before (if anything)? How did you make the shift to this level of exercise?

Aubre: I wasn't doing any exercise at all before I began back at the gym in February 2013. I was too tired and achy to want to get out, plus I felt so uncomfortable and disgusted with myself. I would take our dog for a walk in the neighborhood and my back and feet would be hurting so bad I had to stop every 10 minutes or so for a break. It was pathetic. The good news is that I have always enjoyed exercising, but weighing in at 229.5, it was impossible for my body to move like I wanted it to.
The more uncomfortable I got, the less I wanted to move around. I contacted a new gym in our area in mid February 2013. Anytime Fitness is a 24 hour gym that had just opened in our area. I talked to the owner and told him my story, told him I had a lot of lose and couldn't afford a gym. I told him I NEEDED this gym and asked if he could sponsor me.
He was kind enough to help me out! I started going to the gym each morning at 4:45 (YES, AM!) and started just using the elliptical for 15-20 minutes. That's all I could do at first. A couple weeks into working out I found that I was feeling so good, and I was seeing the scale move in the right direction. I wanted to add more time to my cardio, but due to all the weight, I could only do the elliptical since it didn't hurt my back or feet.
One morning I did a whole hour on the elliptical and felt incredible! From then on I have been working out 6x a week at 4:45AM! I have been doing the elliptical this entire time until about 2 weeks ago. I started getting sick of the same old thing, so I've started doing 30 minutes on the elliptical and 30 minutes of running/walking.
Snack Girl: You are losing a record 10 pounds per month. Did you have an "aha" moment that made it easy for you to lose the weight?

Aubre: I would say the AHA moment has been to really change my habits for the long term instead of thinking of this as a "diet". I have been following the Weight Watchers Points Plus plan and have been working hard to eat a lot of fruits and veggies. I did have an aha moment when I realized that as long as I keep myself full of fruits and veggies every few hours, it takes the edge off my hunger and I make much better decisions about what I want to eat.
I always have food in my purse and car for those moments when I'm starving and feel a bad decision coming on! I like to keep fruit, cut veggies, string cheese, and fiber bars in my purse and car. It makes a huge difference in my overall eating plan! It keeps me on track!
Snack Girl: What foods and habits were the most difficult for you to give up and change?

Aubre: It was terribly difficult for me to give up the huge amount of sugar (bakery items, candy, frozen coffee drinks) and fat (fast food) I was eating. Those two are so addictive, it's VERY hard to get out of their grasp.
I would start each morning with a plan to eat well, but as soon as I had that first bite of sugar or fast food, my day was shot....and I would get rid of the guilt by saying I would start tomorrow. This went on for months and the pounds piled on. The longer I ate poorly, the harder it was to stop. When my weight was at 200 and over I just became so self conscious and uncomfortable that all exercise was off my radar. I was too embarrassed to get out, and my feet and back hurt so bad that I dreaded just going for a walk with my dog or family!
It was a very hard habit to break to get off the couch and start exercising again. But, I knew that if I wanted results, I had to do it! The elliptical was perfect for me since it was relatively easy on my back and feet, but helped me burn a lot of calories.
Snack Girl: What advice would you give to your "70 pound heavier" self?

Aubre: I would say to myself, DO NOT do this to yourself and your family. You are worth the effort. Exercising and eating will make you feel 100 times better than any fast food or bakery item will. At 38 years old, you should be running around with your family (including my 6-year old) and not siting on the couch feeling discouraged and embarrassed. I would tell myself, don't just diet the weight away, get to the bottom of the REAL problem and make a plan to change your life for the long term. It will be worth every effort!
Snack Girl: What is your favorite snack?

Aubre: Some of my favorites are: Dole Banana Slicers - 2 Points+ per package, Fiber One Chocolate and Oats bars - 3 Points+ per bar, Raw carrots and Martzetti Light Dill Dip - 3 Points+ per serving of dip, Raw apples, Sargento Light String Cheese - 1 point plus per cheese stick, Bananas, Diet Coke Zero, and Popcorn.
Thanks so much for inspiring us, Aubre!
---
Other posts you might like:
---

Above is a photo of Penny in 2005 at the Grand Canyon....
---

This is the story of Sharon, far right, and her family on a healthy voyage of sorts...
---