One Brave Woman's Experiment: 31 Days of Vegetables
This is the story of Sharon, far right, and her family on a healthy voyage of sorts.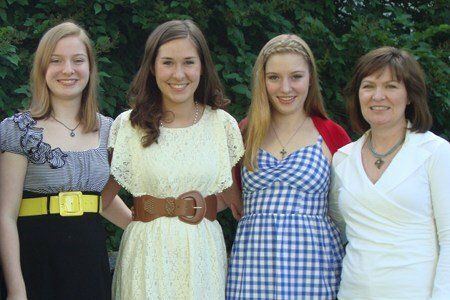 Sharon decided to make 31 days of vegetable dishes for her family and post about it on her blog. Four people were influenced by her choice - her three daughters and her husband (who got cut out of this photo because I don't have enough space).
This is the kind of choice I really admire so I decided to interview her for Snack Girl.
Snack Girl: Back in October, you started your "31 Days Of Vegetables" challenge. What motivated you to undertake such an endeavor?
Sharon: It all started as a way to boost interest in my blog via this huge blog effort started by The Nester with her 31 Days of Change. My true motivation for vegetables was to try and teach my teens how to mix healthy foods into every meal they eat - I will have 3 kids in college in fall of 2013. I want to send them off with knowledge and ideas of how to eat well in the school cafeterias!
Snack Girl: Did your family like all the vegetables you made for them?
Sharon: Most of the recipes were successful and well liked. I rated a lot of my recipes on a scale of 1-5 since there are 5 of us in this family. I have one picky eater, so lots of these veggies rated 4 of 5 stars.
Snack Girl: How did you find the time to shop and prepare all of the new dishes?
Sharon: I always plan my meals for the week and shop on Sunday. I also made an effort to shop mid week for additional fruits and veggies. Google, pinterest and various websites are great ways to find new recipes.
Snack Girl: What was the favorite recipe of the challenge? Please share with us!
Snack Girl: What was your conclusion after the challenge? Are you incorporating more veggies in your diet now?
Sharon: We are absolutely eating more veggies - either in soups/crock pot recipes or just always trying to have a side vegetable with dinner and a salad - so easy to toss together a salad.
Snack Girl: What is your favorite snack?
Sharon: I love salty snacks. I love chips with dip so I try to make home made salsa, guacamole and hummus to mix a little something healthy with the not so healthy chips.
Sharon is not only a wonderful mother and vegetable eater - she is also a crafter. Check out her "Rustic Yet Modern Eco Friendly Handmade Totes" on Shaggy Baggy. See all of her "31 Days of Vegetables" at 31 Days.
Have you tried a challenge like this? Please share.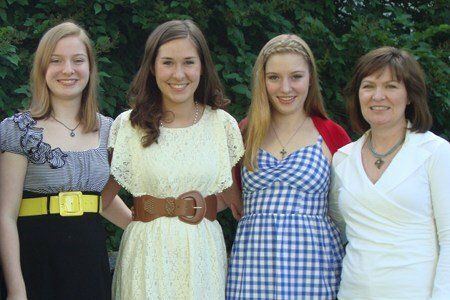 Parmesan Sweet Potato Sticks
reprinted from Shaggy Baggy
Ingredients
2 pounds sweet potatoes, peeled
1/2 cup butter, melted
1/2 cup fine dry bread crumbs (I use Panko)
1/2 cup grated Parmesan cheese
1/2 tsp. salt
1/8 tsp. garlic powder
1/8 tsp. pepper
Instructions
Spray a large baking pan with cooking spray.
Melt butter in a shallow dish.
Combine bread crumbs, cheese, salt, pepper and garlic powder in a separate dish.
Cut potatoes into wedges, dip in butter,then in bread crumb mixture. Place in a single layer in baking pan.
Bake 50-60 minutes at 350 degrees
Points values are calculated by Snack Girl and are provided for information only. See all Snack Girl Recipes
Other posts you might like:
---

Hey, Snack Girl - that isn't even a photo of a vegetable! Are you asleep or something?....
---

Do you think I am talking about that muffin top above? Naahhhh.....
---
---
Get Free Email Updates! Yes please!
---