High fiber, whole grain but then they added cheese
Popcorn is a high fiber, whole grain snack. Can you get any better than that? Popcorn is made from a vegetable (corn) and it tastes great. It tastes really great when you add lots of salt and powdered cheese.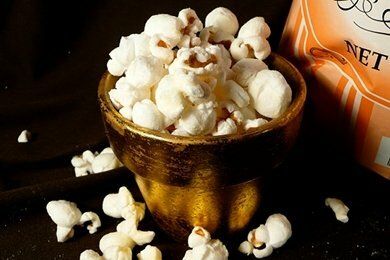 Why the yellow face? If you air pop 3 cups of popcorn, you will have 90 calories. If you use your stove top, you will have 100 calories for 2 cups (and it tastes delicious). Just adding powdered cheese and you get 160 calories. Do you really need the extra calories?
Also, the cost of a bag of popcorn is WAY MORE than if you just made a quarter cup of popcorn on your stove. So for more calories and more money, you get something that doesn't taste as good as homemade popcorn.
BUT, if I am stuck at a convenience store and am faced with choosing a healthy snack, I will choose the Smart Food (or bagged popcorn of any brand). At least I am getting my whole grain goodness, as compared with Twinkies or Fritos.