Baked Cod Recipe
This baked cod recipe is for all of those fish haters out there. Cod is a very mild fish.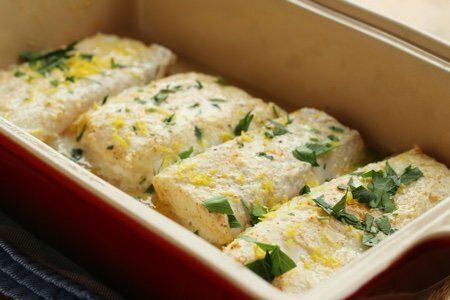 Heck, I'm not even sure it is fish :)
Unlike salmon which I featured in baked salmon and asparagus recipe and baked salmon with mustard, cod is very pale and bland.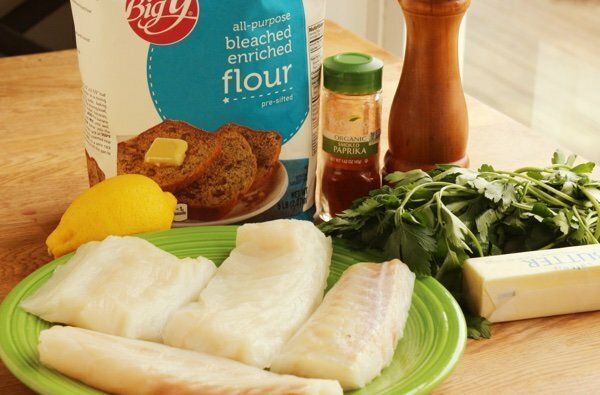 My son, who does not like fish very much, prefers white fish to other oily fishes. This recipe is the kind of thing that he will eat, along with deep fried fish and chips. Who doesn't like deep fried fish? Or deep fried anything for that matter?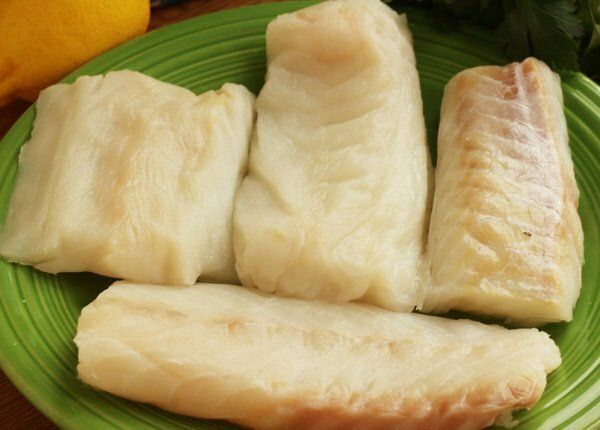 I buy my cod frozen from Costco and it is not cheap. I think it is about $9 per pound but it comes in these perfect little plastic packages so I can choose to thaw only what I need. I buy wild cod or haddock and I always have it on hand for a quick dinner.
This baked cod recipe is cooked in a casserole which can be glass or whatever you have. Because of this job, I won a $1000 gift card to Willams Sonoma (years ago) and got my hands on this casserole.
I don't think I would have bought it because it is $100 and I have two glass casseroles that work fine but since it was "free" – I went for it.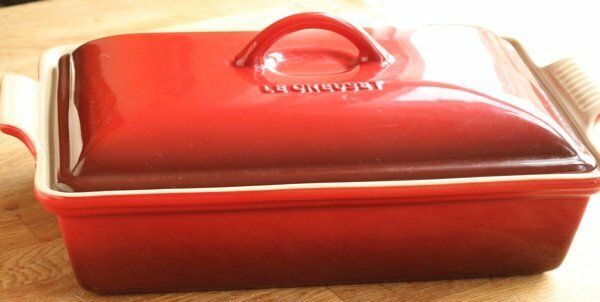 I have been using it for about 7 years and it is really stellar. It holds heat well and it is a pretty serving dish. If you are looking for a present suggestion and love casseroles – this should be on your list (see below on Amazon).
Coating the fish is easy. All you do is dunk in the butter and lemon juice and then dunk in the flour mixture.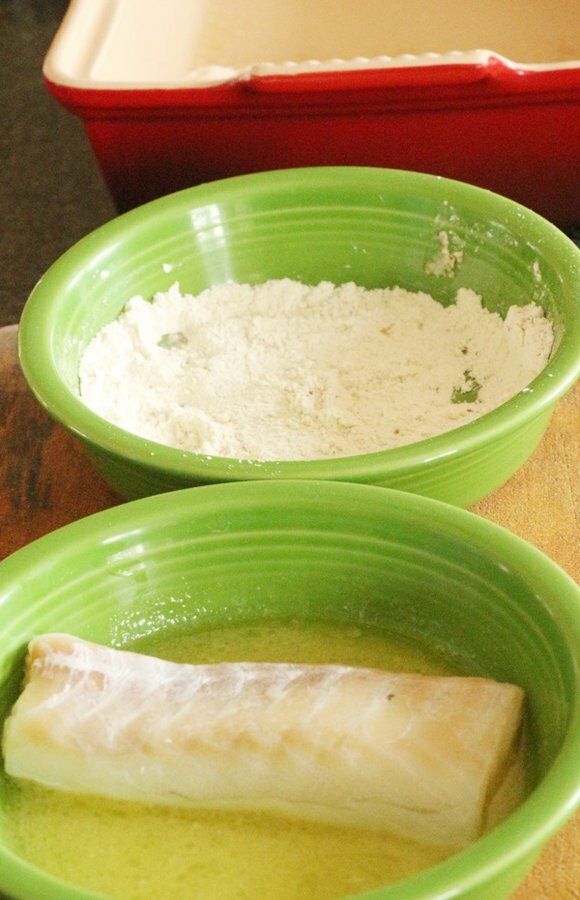 A little bit of coating goes a long way to making this fish into something a little bit special.
I serve this with a cucumber salad and some brown rice. I love how light and healthy it is – but it tastes more decadent.
Do you bake cod? How do you prepare it?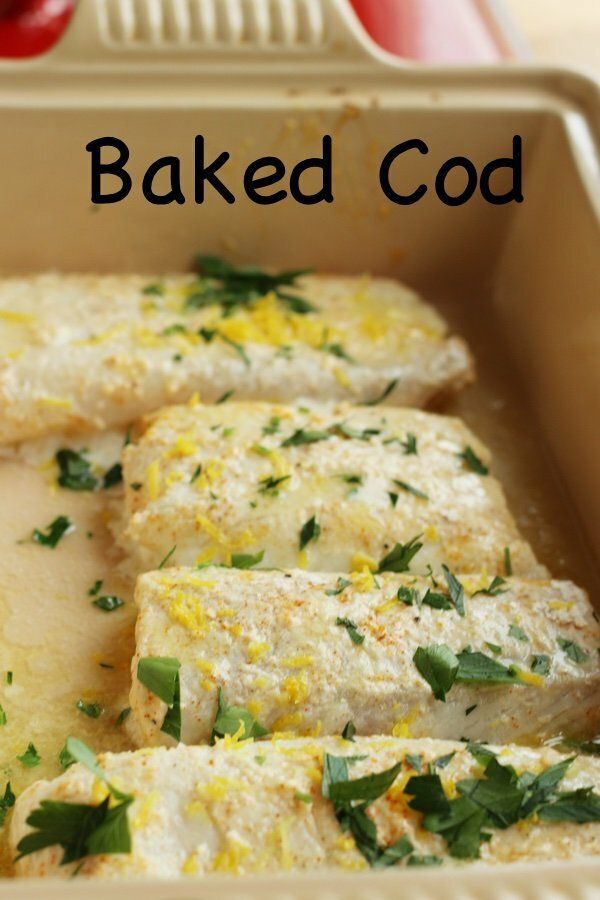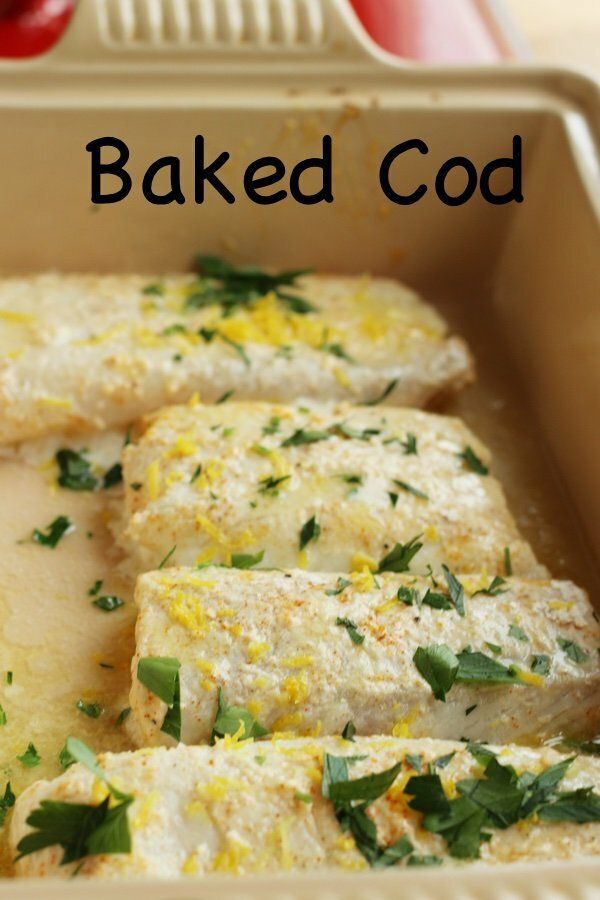 Baked Cod Recipe
Makes 4 servings
Ingredients
1 lemon, juiced
2 tablespoons butter, melted
¼ cup all purpose flour
½ teaspoon salt
¼ teaspoon smoked paprika
¼ teaspoon freshly ground pepper
4-6 ounce cod fillets, thawed
2 tablespoons parsley, chopped
2 teaspoons chopped lemon zest
Instructions
Heat oven to 400 F. Coat a 13x9 inch casserole with non-stick spray. In a shallow bowl, mix lemon juice and butter. In another shallow bowl, mix flour, salt, paprika, and pepper. Dip cod in lemon juice and butter and then in flour mixture, shaking of the excess and then placing the fillet in the casserole dish. Repeat with the four fillets.
Drizzle fillets with remaining butter and lemon and bake for 12-15 minutes until fish is flaky. Toss on parsley and lemon zest when done and serve immediately.
Nutrition Facts
One fillet is 173 calories, 6.9 g fat, 3.7 g saturated fat, 6.4 g carbohydrates, 0.2 g sugar, 21 g protein, 0.4 g fiber, 414 mg sodium, 3 Freestyle SmartPts
Points values are calculated by Snack Girl and are provided for information only. See all Snack Girl Recipes
---
$134.95 Buy on Amazon.com
As an Amazon Associate, I earn from qualifying purchases.
---
Other posts you might like:
---

This baked salmon with mustard recipe will make fish night into something special.....
---

Do you like to get presents? How about opening baked salmon and asparagus?....
---
---
Get Free Email Updates! Yes please!
---