Kale In A Casserole: You Must Try
Snack Girl is always on the hunt for a good kale recipe because she has tried several bad ones.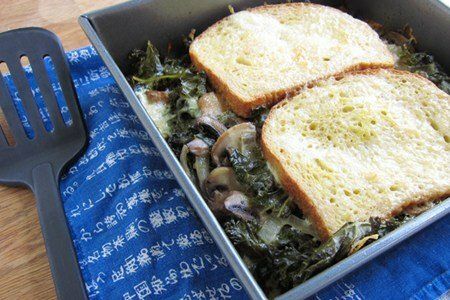 I realize my photo isn't exactly appetizing, but my skills don't extend to "casserole photo taking". It won't smile when you ask!
This baked kale recipe is high in calcium, manganese, phosphorus, riboflavin, selenium, vitamin A, vitamin B6, vitamin B12, and vitamin C. It is like a multi-vitamin but better because the vitamins and minerals are in a form that is easier for your body to absorb (food versus pill).
If you can figure out how to eat a lot of kale, you will have a long long life. I promise.
The key is to make it so yummy that you can't resist it. Here I have added bread, eggs, and milk to create a quiche-like lunch or snack. My husband inhaled half of this casserole for lunch.
He flipped it over so the bread was on the bottom and he could cut it up (which he highly recommends).
I highly recommend trying to eat a lot of kale. Below this recipe are links to two other Snack Girl favorites. Give at least one of these choices a try.
Eat More Kale.
How do you serve kale?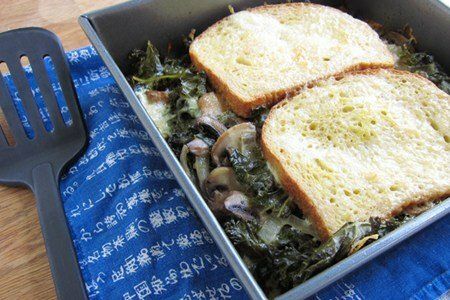 Kale & Mushroom Bake Recipe

Makes 6 small servings

Ingredients
2 teaspoons olive oil
1 bunch kale, center ribs removed and torn into small pieces
8 ounces white mushrooms, washed and pre-sliced
1 medium onion, sliced
2 slices 100% whole wheat bread
½ cup milk
2 eggs
2 ounces grated cheddar cheese

Instructions
Preheat oven to 350 F. Spray an 8x8 baking pan with non-stick spray. Heat olive oil in a large casserole, add kale and cover. Cook, stirring frequently, until kale is wilted. Add mushrooms and onions and cook until onions are translucent.
Beat eggs and milk together in a small bowl
Transfer kale mixture to baking pan. Layer bread on top of the kale and pour the milk and egg over the top. Sprinkle on the cheddar cheese. Cover and bake for 15 minutes.
Enjoy hot or at room temperature.
Nutrition Facts
149 calories, 7.4 g fat, 3.0 g saturated fat, 13.6 g carbohydrates, 3.1 g sugar, 9.3 g protein, 2.5 g fiber, 158 mg sodium, 4 Points+
Points values are calculated by Snack Girl and are provided for information only. See all Snack Girl Recipes
Other posts you might like:
---

Yes! You know the vegetable that I am referring to - KALE. Kale is on every list for "healthiest vegetable".
---

Kale is getting a lot of press and finding its way on all the top blogs. I had to ask this kale to stop on the red carpet to photograph it....
---
---
Get Free Email Updates! Yes please!
---