Change Up Breakfast With Baked Oatmeal
If you combine whole grains, eggs, yogurt, milk, and fruit what do you get? Breakfast!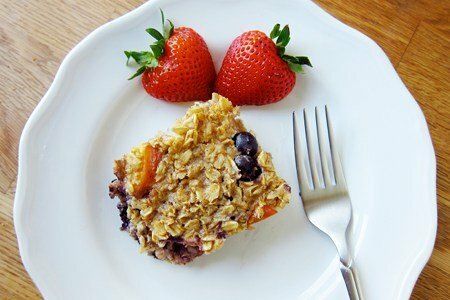 Anyone else missing the bacon in this description? :)
Baked oatmeal is a make ahead breakfast that will streamline your morning. The texture is firmer than oatmeal and softer than a muffin so it might be a bit messy for car breakfasting.
I baked a batch and feel like Martha Stewart as I heat up slices in the microwave. Feeling organized in the morning gives me an odd feeling of accomplishment.
You've got to make this stuff. Baked oatmeal is:
ridiculously easy to make
convenient for the AM rush
comforting and satisfying
It's like a little bit of love in a bowl. (or a lot of love if you are my 6 year old son who seems to eat all 49 pounds of his weight every day)
And, baked oatmeal is customizable. You can add any fruit you may have lying around the kitchen. I used some frozen mango and blueberries because I am too lazy to slice anything. You could use apples, peaches, strawberries, pears, etc.
All you do is mix it up, bake it, and store it in the fridge until you are ready to eat it.
This recipe has 1/2 the sugar of most other baked oatmeal recipes. I changed it because if it isn't sweet enough for you - it is easy to just add some sweetener to the finished product.
My son liked a little milk and maple syrup added to his "warmed in the microwave" baked oatmeal.
This recipe can be made gluten free if you use gluten free certified oats. Many oats are processed on the same machines as wheat so you have to be vigilant when purchasing them.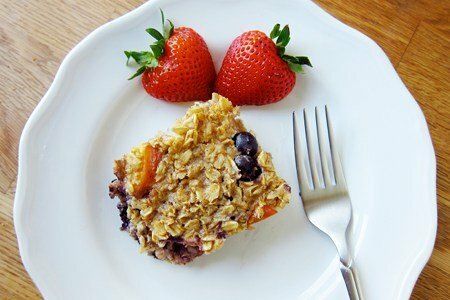 Baked Oatmeal Recipe

(8 servings)

Ingredients
Dry ingredients:
2 cups rolled oats
1/2 tsp baking powder
1/4 tsp salt
1 tsp allspice
1/2 tsp cinnamon

Wet ingredients:
2 1/2 cups sliced fruit
1 cup milk
1 cup plain yogurt
2 eggs
1/4 cup maple syrup, honey, brown sugar, or sugar

Instructions
Preheat oven to 350F. Spray nonstick spray on a 8x8 baking dish (or equivalent). Mix dry ingredients and then mix in wet ingredients. Spoon into pan and cover with foil. Bake for 20 minutes, remove foil, and bake for another 25 minutes until golden brown.
Enjoy hot, cold, or room temperature. If well covered, this will keep in the fridge for one week.
Nutrition Facts
For one serving using low fat milk and yogurt = 170 calories, 3.6 g fat, 27.6 g carbohydrates, 7.1 g protein, 3.1 g fiber, 163 mg sodium, 4 Points+
Points values are calculated by Snack Girl and are provided for information only. See all Snack Girl Recipes
Other posts you might like:
---

Cereal is the most amazingly simple breakfast to serve. All you do is pour from a box....
---

So, you like to bake - but you have a problem. Yes, I know that problem well.....
---
---
Get Free Email Updates! Yes please!
---