An Awesome Portion Control Trick For Homemade Cookies
So, you like to bake - but you have a problem. Yes, I know that problem well.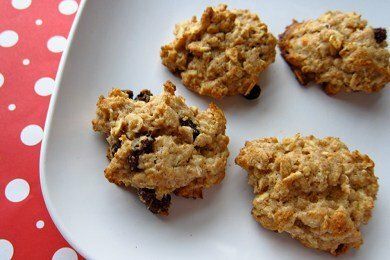 You bake a couple dozen cookies and then they stare at you from wherever you have put them. Haunting you...... Just one more, you say, as you eat two more.
I have this rule about baked goods that I only eat ones that I have baked (or that someone I know has baked). These keeps me from eating stale, terrible, supermarket cookies when I see them.
This rule has helped me drop some unnecessary pounds and now I savor my baked goods. BUT, if I have them around I can't stop eating them.
So, with the help of a reader's comment, I came up with this handy method of having my cookies without overindulging. Check this out: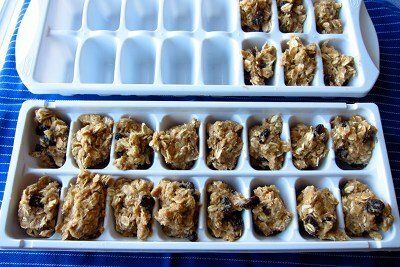 I put my finished oatmeal raisin cookie dough into an ice cube tray! And, then I froze them and dumped them out into a freezer bag. Now if I want a fresh baked cookie, I heat up my oven, get out a baking sheet, and bake a reasonable number for my family.
This would be even better if I had a toaster oven because I wouldn't have to heat my whole oven for such a small load.
I put on my apron when my children get off the school bus and pretend I have been baking all afternoon. Take that - Martha Stewart!! HA! I look like super mom as I serve them fresh baked cookies.
I need a cape (and some cool tights and maybe a pair of kickin' leather boots).
Try this oatmeal raisin cookie recipe - it is super delicious and fast to make.
How do you deal with the too many cookies problem?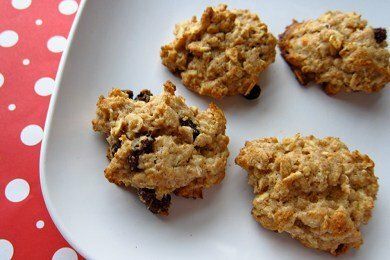 Oatmeal Raisin Cookie Recipe

(makes 20 cookies)

Ingredients
4 tablespoons unsalted butter
1/4 cup sugar
1 egg
3/4 cup whole wheat flour
1 cup rolled oats
1/2 teaspoon cinnamon
1 teaspoon baking powder
1/4 cup milk
1/2 teaspoon vanilla
1/4 cup raisins

Instructions
Soften butter in microwave (or leave out of the fridge if you remember). Mix butter, sugar, and egg in a large bowl. Add the rest of the ingredients and mix until combined. Place cookies in ice cube tray and freeze (about 5 hours). When frozen, take out of tray and put in freezer bag.
Preheat oven to 375 F. Place frozen cookie on ungreased baking sheet. Bake for 12-15 minutes or until light brown. Enjoy!
Nutrition Facts
For one cookie = 73 calories, 2.9 g fat, 10.6 g carbohydrates, 1.5 g protein, 0.7 g fiber, 21 mg sodium, 2 Points+
Points values are calculated by Snack Girl and are provided for information only. See all Snack Girl Recipes
Other posts you might like:
---

Snack Girl has been refining her chocolate chip cookie recipe. It is a tough job - but I am willing to make the sacrifice....
---

If you read Snack Girl enough, you know that I like a challenge. I had seen vegan cookies at cafes and thought, "no butter, no eggs, equals a disgusting cookie"....
---
---
Get Free Email Updates! Yes please!
---