Baked Salmon and Asparagus Recipe
Do you like to get presents? How about opening baked salmon and asparagus?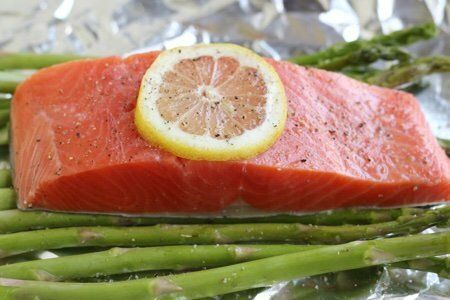 I love the idea of wrapping up my meal especially because I can do this ahead (in the AM) and pop it into the oven when I am ready to go.
My kids will eat this because they love the pink of the salmon. I buy wild sockeye salmon frozen in fillets when I can find it. Costco usually has it stocked in the freezer section.
The vast majority of the fish we buy (even the lovely fillets in the case at the supermarket) has been frozen at some point and I find that the quality doesn't suffer.
The only times I have had truly fresh fish is when I have caught it myself. On a vacation to Mexico, I went out and fished at 5 AM, caught Dorado (saw some whales), and then sat on the beach at 8 AM inhaling fish tacos. Now THAT was some fresh fish.
Salmon is packed with the Omega-3 fatty acids that health experts love to promote because they a have a stabilizing effect on your heart and can curb joint pain.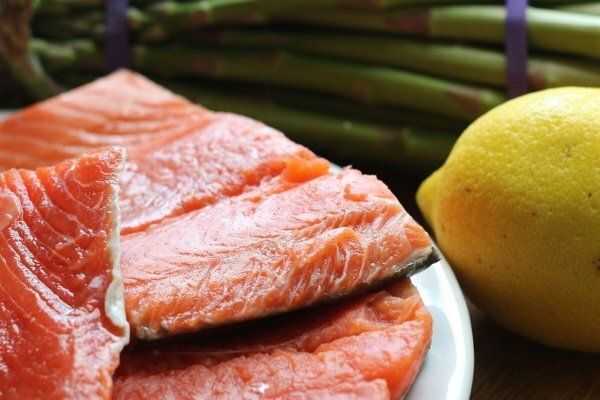 Doesn't it look lovely? This recipe is so simple because all you have to do is wrap it up and bake it.
My 12 year old daughter can make this and then she will Instagram it to prove she cooked.
Both the salmon and the asparagus come out perfectly cooked. Make a few of these at the start of the week and then reheat one for lunch.
I like to spread some Dijon mustard on the fish or drizzle a little balsamic vinegar on the asparagus to dress it up a bit.
WATCH THE VIDEO ☺
This is a fun recipe to mix it up and (unless you don't read the recipe) – you can't go wrong. It is wonderful to have the meal prepackaged in foil! Just pop the extras into your fridge (I would put a plate underneath them in case of liquid oozing out).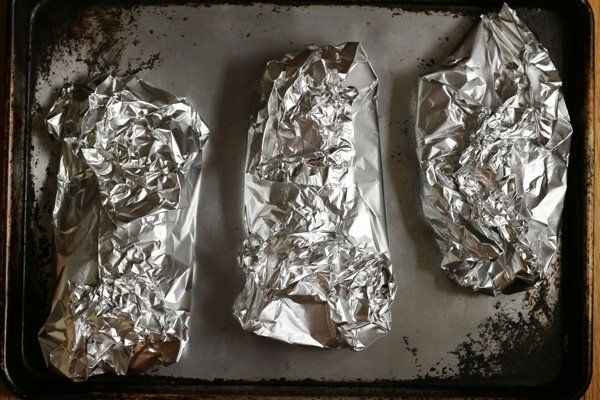 Have you tried food baked in foil?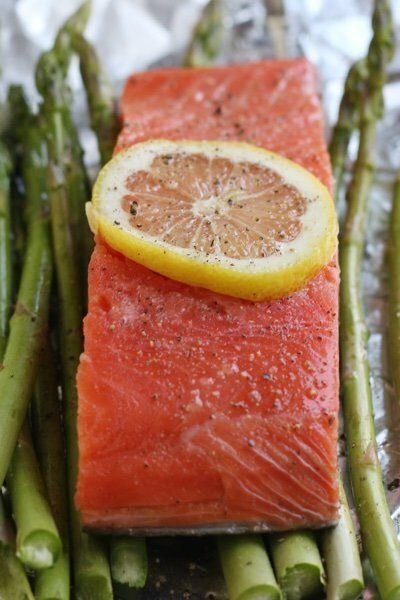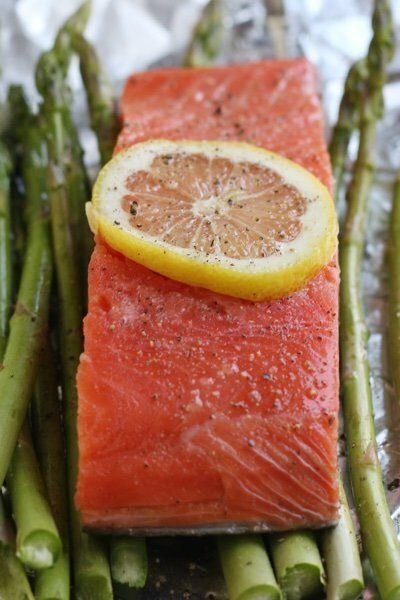 Salmon and Asparagus in Foil Recipe

Makes 3 servings

Ingredients
3 salmon filets about 6 ounces each or frozen salmon filets, thawed
1 pound asparagus, bottom tough part broken off
1 lemon
salt and pepper to taste

Instructions
Preheat oven to 400 F. Place asparagus in the middle of a large piece of foil. Layer salmon over asparagus. Slice lemon in half and squeeze one half of lemon over the three salmon fillets. Slice the other lemon half thinly and layer the slices on top of the salmon. Sprinkle with salt and pepper.
Fold over foil and place on a rimmed baking sheet. Bake for 15-20 minutes or until asparagus is tender.
Nutrition Facts
For one pouch including salmon filet and asparagus = 395 calories, 18.4 g fat, 3.1 g saturated fat, 5.9 g carbohydrates, 2.8 g sugar, 50 g protein, 3.2 g fiber, 200 mg sodium, 0 Freestyle SmartPts
Points values are calculated by Snack Girl and are provided for information only. See all Snack Girl Recipes
---
Get Free Email Updates! Yes please!
---