Balsamic Roasted Green Beans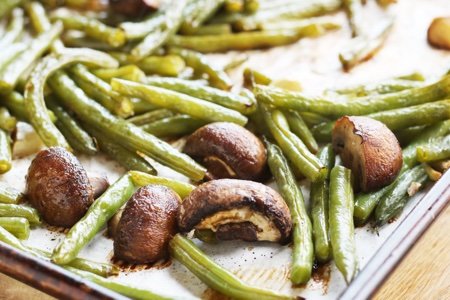 Looking for some easy vegetables? Check out balsamic roasted green beans.
They are delicious and you can pretend you are a gourmet. I happen to love green beans and eat them all the time. My favorite recipes include my recipe for sautéed green beans with garlic and my refrigerator pickled green beans.
This recipe is not only simple, but it makes your house smell really good.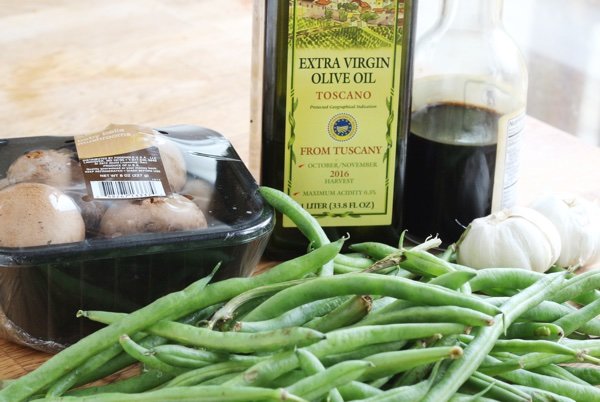 It kills me how easy it is to make vegetables taste delicious – and how little time we take to do it. I am guilty of eating the same boring stuff all the time. Then I work on a recipe like this and I wonder what is so hard?
Washing, slicing, and tossing vegetables onto a baking sheet is easy!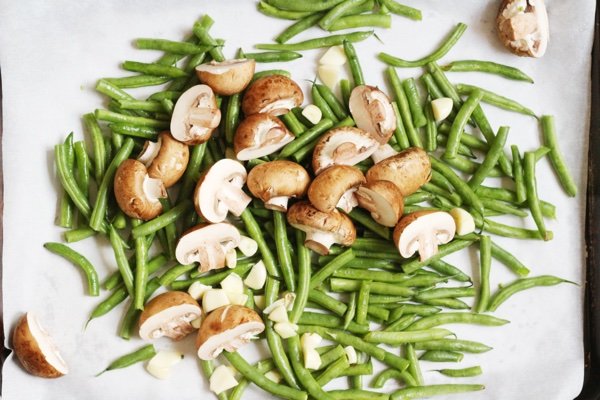 The hard part is getting motivated to move past that boring Romaine salad that I eat every other day.
I know I am not the only one with this problem because sometimes I wear reflective sunglasses and walk around the grocery store. The glasses are so that no one knows that I am staring into their cart.
I peek and see what others are buying and I am amazed at the lack of diversity of food in people's carts. Everyone has the same frozen meals, chips, and orange juice.
I want to scream, "PEOPLE did you see the $1 mangos?"
Mostly, I do this so that I can think about what I can do differently to help motivate others to eat more vegetables.
This dish can be served hot or at room temperature. The versatility of roasted vegetables knows no limit. Put them in a quesadilla, a salad, on your eggs, in a sandwich, or on ice cream (not).
I like to add these to my boring Romaine salad to make it fancy. I add feta to the top to make it more like a meal.
Will this recipe help you eat more vegetables?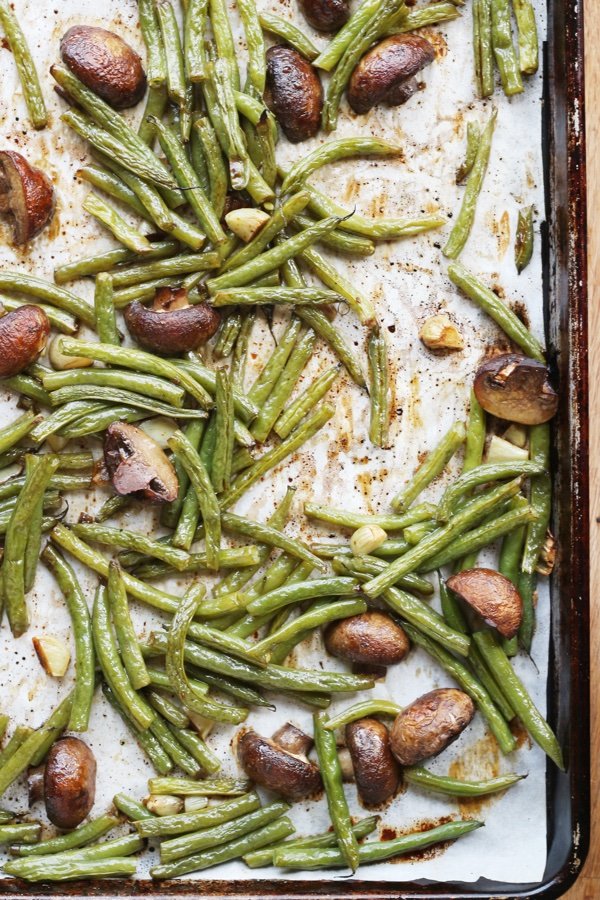 print
Pin It
Balsamic Roasted Green Beans and Mushrooms Recipe

Makes 4 servings

1 pound fresh green beans, trimmed and halved
8 ounces mushrooms (white or bella), washed and halved
10 cloves garlic, peeled and halved
1 tablespoon plus 1 teaspoon extra virgin olive oil
2 tablespoons balsamic vinegar
salt and pepper to taste

Heat oven to 450 degrees. Line a baking sheet with parchment paper. Put beans, mushrooms, and garlic on the sheet. In a small bowl, mix olive oil and balsamic vinegar and pour over beans. Mix with your hands and add salt and pepper.
Roast for 20 minutes or until beans are tender. Serve immediately or store in the fridge for later consumption.
For one serving = 100 calories, 5.0 g fat, 0.7 g saturated fat, 12.5 g carbohydrates, 2.7 g sugar, 4.3 g protein, 4.6 g fiber, 50 mg sodium, 1 SmartPts
Points values are calculated by Snack Girl and are provided for information only. See all Snack Girl Recipes
---
Other posts you might like:
---

Sometimes simple is best as in this recipe for sautéed green beans with garlic.
---

I know you probably think it is time for potato chips – but you are wrong....
---
Make Eating Well Fun and Easy! Subscribe
---