Banana Peanut Butter Waffledillas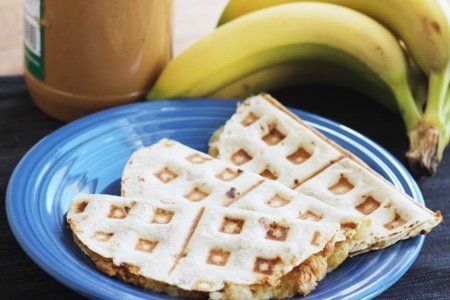 Yes, I am a bit obsessed with my waffle iron. Sue me.
Actually, please don't sue me. I hate courts and I am scheduled for jury duty again. Prosecutors and defense attorneys throw me off of juries before I ever get a chance to serve. I think there is something about my Ph.D. that makes them believe that I might pay attention.
What little they know about us Ph.Ds........ We tend to be a pretty sleepy bunch......zzzzzz
Before going to court to be rejected, I made this "Waffledilla" (go ahead and sue me for making up a word).
This is straight forward, delicious, and fun!
What else would you put in a Waffledilla?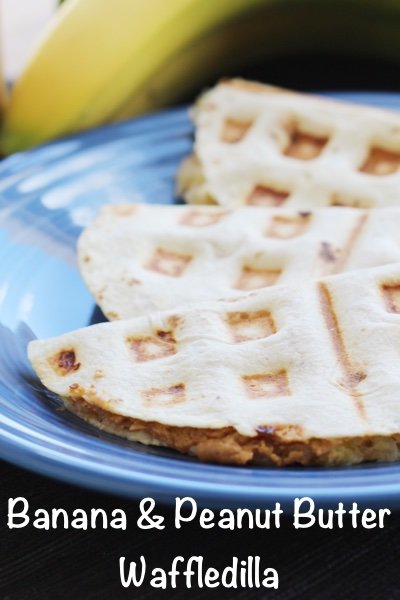 print
Pin It
Banana & Peanut Butter Waffledillas
Makes 2
2 teaspoons natural peanut butter
1 ripe banana
2 small flour tortillas
Heat waffle iron. Spread peanut butter on one half of each tortilla. Mash banana in a bowl and spread on half of each tortilla. Fold tortilla into half circle and cook on waffle iron for four minutes until hot.
One waffledilla is 138 calories, 3.5 g fat, 0.7 g saturated fat, 25.2 g carbohydrates, 7.8 g sugar, 3.7 g protein, 3.4 g fiber, 12 mg sodium, 3 SmartPts
Points values are calculated by Snack Girl and are provided for information only. See all Snack Girl Recipes
Snack Girl receives a small percentage of sales from links to Amazon.com.
---
Other posts you might like:
---

Are you ever looking for a treat which takes a minute and involves almost zero prep?...
---

We all get into major cooking ruts where the question, "What's for dinner?" begins to try us crazy....
---
---
Get Free Email Updates! Yes please!
---