A Zero Calorie Method To Soothe Yourself
Looking for a way to calm down after a long day? Have I got the recipe for you!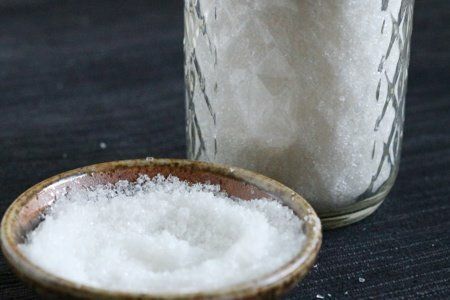 Usually I write recipes for healthy food that will satisfy your taste buds. Today, I branch out into a new world.
That world is bath salts.
I know you are thinking, "Hey, that's not food!" but I think that we reach for food for many emotional reasons. I talk about this in my terrific book in a chapter called "Emotional Eating" (if you haven't bought a copy yet – see below).
There is another great book below called "50 Ways to Soothe Yourself Without Food" which is a great resource if this is your particular stumbling block.
My recipe today has zero calories, is inexpensive, and super easy to make. In fact, compared to commercial bath salts you are saving a ton of money AND you get to customize your product.
I used vanilla for this recipe because I have it in my kitchen. You can buy essential oils in a number of scents such as lavender and rosemary. This is a good article about essential oils – 21 Things You Should Know About Essential Oils.
You can find essential oils in health food stores, including Whole Foods, and other hippy joints that are into aromatherapy.
Soothing your senses with a lovely smell (vanilla!) and soft water (bath salts) will allow you to move through the frustration of your day and into a more positive frame of mind without inhaling a pint of Ben & Jerry's. Give it a try!
How do you soothe yourself without food?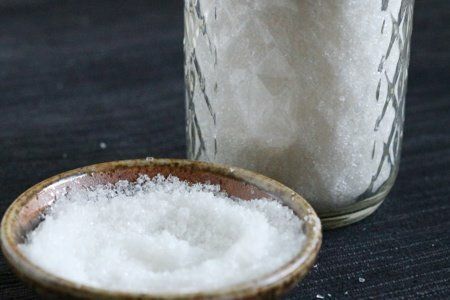 Vanilla Bath Salts Recipe
Makes 1½ cups
Ingredients
1 cup Epsom salts (found at supermarket in healthy and beauty aisle)
½ cup kosher salt (baking aisle)
1 freezer bag, quart sized
¼ teaspoon vanilla
Instructions
Place both salts into freezer bag and mix. Add vanilla and toss until salts are coated and aroma is to your satisfaction. If using essential oils, add 5 drops and smell to see if you like it.
Spread salts on waxed paper on a rimmed baking sheet and dry for 1 hour. Place in air-tight jar.
To Use: Start a nice hot bath and add ½ cup – 1 cup to the water as it fills the tub. Light some candles (and if you have kids – lock the door). Turn off the phone and announce that you are going to a happy place.
Points values are calculated by Snack Girl and are provided for information only. See all Snack Girl Recipes
---
$18.41 Buy on Amazon.com
As an Amazon Associate I earn from qualifying purchases.
---
---
Get Free Email Updates! Yes please!
---