This Slow Cooker Will Change Your Mind About Slow Cookers
I bought my first slow cooker five years ago at Target. It was at the end of an aisle and on sale.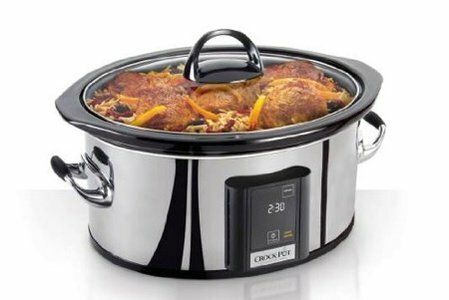 That slow cooker lasted me five years, but I never loved it. I spent about $40 on it – it was a Crock-Pot and I speak of it in the past tense because it is gone.
A few weeks ago, the ceramic insert broke in my hands and I rushed outside to the garbage can before my husband could suggest buying another insert for it. I was DONE with this Crock-Pot.
I was finished for all the reasons that I hear people don't like slow cookers:
The food tended to taste like the inside of a slow cooker.
It sat on warm for too long and my food ended up dry.
My dinner is a pile of mush!
The issue with slow cookers is that they have been advertised as "set and forget" but that doesn't actually work. A friend of mine who leaves the house at 8:00 AM and gets back at 6:30 – 10 1/2 hours out of the house – wanted to know if it could just turn off and not stay on warm.
The problem is then you have a food safety issue if food sits at room temperature. That is why slow cookers never simply turn off when finished.
My solution to this problem is to make sure that I am around when the cooking time is completed so my food doesn't get ruined by sitting at "warm" for hours. I use my slow cooker more on the weekends.
But, I wasn't totally happy with the food. It wasn't brilliant and it should have been because a slow cooker is simply a pot sitting over a low fire for hours. The flavors should deepen and tough cuts of meat should become tender if it works correctly – which it didn't really.
When my Crock-Pot broke it was good news because I could foray out into the world and find a new one. I have a copy of "Slow Cooker Revolution: Volume 2: The Easy-Prep Edition" and it is a pretty good book. I usually change the recipes to suit me because I find the food bland – but it has some beautiful pictures and good recipes.
The book is by America's Test Kitchen and it talks about all the slow cookers on the market – and they test them all. Their recommendation is the "Crock-Pot Programmable Touchscreen Slow Cooker, SCVT650-PS, 6.5 quart" and it costs $80.
$80!! Ouch.
I decided to go for it because I have such hope for slow cooker meals. They should be awesome. Actually, all food should be awesome.
(and I figured I could return it if it failed me)
Well, go and break your $40 slow cooker because this one is absolutely wonderful. I have turned out 5 or 6 meals and each one of them is better than the next. The meat becomes tender, the flavors meld, nothing gets burned or becomes mushy. It seems to hold the temperature much more consistently and the top doesn't allow the juices out.
I still use it on the weekends when I know I will be around when it finishes cooking as a precaution against dried-out or mushy food. My book has some great slow cooker recipes in addition to these:
Have you found success with new technology? Please share.
Snack Girl bought this Crock-Pot with her own money. Crock-Pot did not sponsor this post (the company probably doesn't know Snack Girl exists).
---
$69.99 $64.99 Buy on Amazon.com
As an Amazon Associate, I earn from qualifying purchases.
---