The World is Ready for More Curves in Bikinis
Every year in February, Sports Illustrated prints an issue of women in bikinis because February is a slow sports month.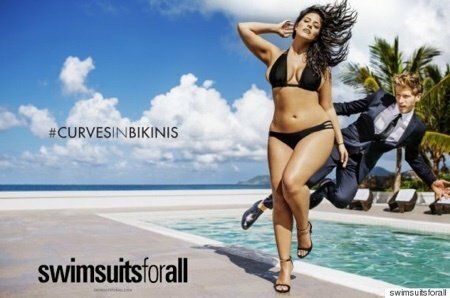 I'm sure they don't make any money on this issue with scantily clad beach babes because Sports Illustrated readers are only into sports as the title of the magazine suggests.
Ha!
Forbes reports since the swimsuit issue began in 1964, it is brought in over $1 billion dollars. In 2005, the swimsuit edition brought in $35 million dollars in ad revenue. This is before we start adding up the revenue from the videos or calendars.
This year there is a new addition to the advertising and it is causing some buzz. It seems my bikini post has started a trend.
Curvy women in bikinis!
I offered to model for SwimsuitsForAll but they had already hired Ashley Graham who had this to say about her appearance in the advertisement (in SI):
"I know my curves are sexy and I want everyone else to know that theirs are too. There is no reason to hide and every reason to flaunt," Graham said of her sexy ad. "The world is ready for more curves in bikinis. "Swimsuits For All" helps women feel confident and sexy in swimsuits and I am so thrilled to be a part of the #CurvesinBikinis campaign!"
Now we have equal opportunity objectification of women in the magazine! Hurray!
Actually, I like the ad. I think she looks healthy and normal though she does admit that they Photoshop out her cellulite.
I do think this is a step forward. It is a good thing to see different sizes and types of women in swimsuits – even if it is an advertisement vs. an actual feature in the SI swimsuit issue.
What do you think of the #CurvesinBikinis campaign? Does it make you want to wear a bikini?