Try Adding This To Your Brownie Mix
I bet you are wondering what "this" is - and it is a natural ingredient from a plant. Not the plant most of you are thinking of because this is a family website.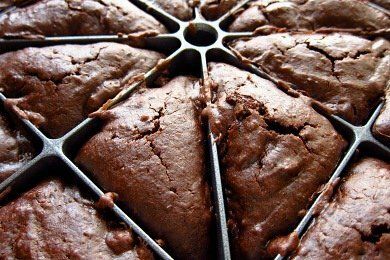 I am talking about black beans!! I posted this recipe back in 2010, and the feedback has been great. Here is one comment from PattiR:
If you haven't tried this recipe - drop what you're doing....go the store, buy the two ingredients and rush home. IT'S DELISH!
I've made this several times and no one has guessed that there are BB in it. I've found if i undercook them just a little bit, it's more dense which is how I like my brownies. A-W-E-S-O-M-E-N-E-S-S!!!
Why would you add black beans instead of oil and an egg?
First, let's look at calories. For 1/3 cup canola oil and one egg (which is what you add to my favorite brownie mix) you are looking at 705 calories vs. 315 for the can of black beans. But the comparison shouldn't stop there, because the black beans have ZERO saturated fat - while the egg and oil combination has 6.7 grams (for the entire brownie mix).
Also, with black beans you will be adding fiber. Black beans have 24% of your daily value of fiber in 1/2 cup.
How does it taste? It is kinda amazing because I didn't tell people about the beans and they loved the brownies. Why? The mix alone has sugar, chocolate, and chocolate chips! My favorite mix is Ghirardelli Chocolate - Double Chocolate Brownie Mix. How could you mess it up? Honestly, you can't taste the beans.
My brownies turned out a bit more like cake than I like. I like really chewy brownies. PattiR tried undercooking them and I have heard that it works. Even with the addition of black beans, this is still a treat so be careful of your serving size.
I have heard that adding a can of pumpkin is another way to have delicious brownies with fewer calories.
I am reposting this recipe because so many have asked for nutrition information and Points+ values.
Have any of you tried altering brownie mixes? What have you found?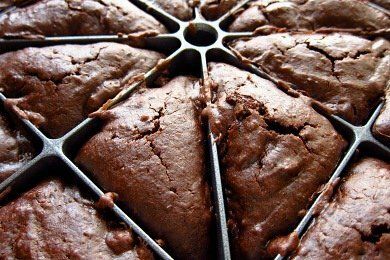 Healthier Brownies Recipe
(Makes 16 brownies)
Ingredients
1 15.5 ounce can black beans
1 package brownie mix (20 ounces)
Instructions
Blend UNDRAINED black beans in food processor or blender until smooth. Mix in with brownie mix and bake following package directions. Try under baking them for a chewier brownie.
For the nutrition calculation, I used Ghiradelli Ultimate Fudge Brownie mix as my sample mix. I believe it is representative of these mixes.
Nutrition Facts
One brownie is 154 calories, 4.2 g fat, 30 g carbohydrates, 17 g sugar, 2.5 g protein, 2.3 g fiber, 103 mg sodium, 4 Points+
Points values are calculated by Snack Girl and are provided for information only. See all Snack Girl Recipes
Other posts you might like:
---

Looking for that perfect gift for that special someone? Put down your credit card and rev up your food processor.
---

No one is ever going to accuse Snack Girl of not loving a WEE bit of chocolate. But, my taste bud credentials have been called into question....
---
---
Get Free Email Updates! Yes please!
---