Healthier Brownies With A Secret Ingredient
Snack Girl is not someone who thinks you should alter the almighty brownie treat. Why take something so indulgent and delicious and change it?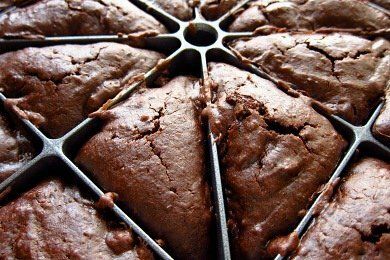 But, after listening to Bill Clinton talk about his weight loss, I have been thinking about decreasing the amount of saturated fat in my diet. Heart disease is the number one killer of women in the United States (see:National Institute of Health) and I want to live a LONG time.
Also, my friend Lynn at The Actor's Diet suggested a magic ingredient to add to packaged brownie mix and I just HAD to try it. The ingredient, a can of undrained pureed black beans, sounded SO disgusting.
Why would you add black beans instead of oil and an egg?
First, let's look at calories. For 1/3 cup canola oil and one egg (which is what you add to my favorite brownie mix) you are looking at 705 calories vs. 315 for the can of black beans. But the comparison shouldn't stop there, because the black beans have ZERO saturated fat - while the egg and oil combination has 6.7 grams (for the entire brownie mix).
Also, with black beans you will be adding fiber. Black beans have 24% of your daily value of fiber in 1/2 cup.
How does it taste? It is kinda amazing because I didn't tell people about the beans and they loved the brownies. Why? The mix alone has sugar, chocolate, and chocolate chips! My favorite mix is Ghirardelli Chocolate - Double Chocolate Brownie Mix (thanks, Laura!). How could you mess it up? Honestly, you can't taste the beans.
My brownies turned out a bit more like cake than I like. I like really chewy brownies. Maybe if I cook them less next time they will come closer to the consistency that works for me.
Also, I used a new pan that Nordic Ware sent me for making brownies (see below). There are a couple of great things about this pan (except the price - $22). The brownies pop right out and it is easy to clean.
The best part of the pan was that it was an INSTANT portion. My brownies were 165 calories each! versus 190 calories with the oil and egg.
Have any of you seen the brownies at your local cafe? I bet they are three times the size (and I KNOW they didn't use a can of black beans :)
165 calories is still a treat, but you can feel better knowing you cut down your saturated fat and increased your fiber with this great substitution.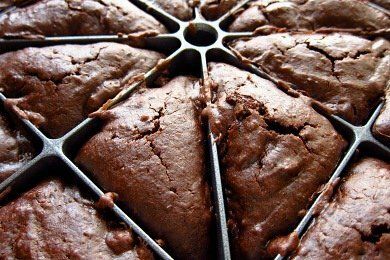 Healthier Brownies Recipe
(Makes 16 brownies)
Ingredients
1 15.5 ounce can black beans
1 package brownie mix (20 ounces)
Instructions
Blend UNDRAINED black beans in food processor or blender until smooth. Mix in with brownie mix and bake following package directions.
For the nutrition calculation, I used Ghiradelli Ultimate Fudge Brownie mix as my sample mix. I believe it is representative of these mixes.
Nutrition Facts
One brownie is 154 calories, 4.2 g fat, 30 g carbohydrates, 17 g sugar, 2.5 g protein, 2.3 g fiber, 103 mg sodium, 4 Points+
Points values are calculated by Snack Girl and are provided for information only. See all Snack Girl Recipes
Anyone else alter baking mixes? Please share your ideas.
This product was received for review consideration. No other compensation was provided.
---
$32.99 Buy on Amazon.com
As an Amazon Associate I earn from qualifying purchases.
---
Other posts you might like:
---

Looking for that perfect gift for that special someone? Put down your credit card and rev up your food processor.
---

No one is ever going to accuse Snack Girl of not loving a WEE bit of chocolate. But, my taste bud credentials have been called into question....
---
---
Get Free Email Updates! Yes please!
---