Two Ingredient Black Bean Soup, Delicious and Vegan!
Do you have any relatives who say that they cook and then they just open cans? Yep, this recipe was inspired by a "Can Chef".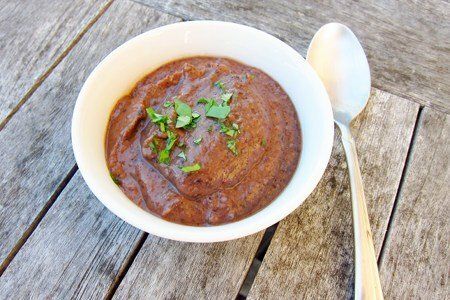 I am always looking for a way to store healthy meal components in my pantry so when I run out of food, time, etc. - a meal is just waiting for me.
If you look in my cabinets, you will find cans of black beans and cans of tomatoes. I wish I had the foresight to cook my beans from the dried version because I would save some money. Also, I could control the sodium which is a problem with canned beans.
There is about 400 mg of sodium in ½ cup of canned beans. To reduce it, you can drain and rinse them. You can also buy "Low Sodium" canned beans in the supermarket. I'm not sure why all canned beans aren't low sodium.
Diced tomatoes of every flavor can be found next to the tomato sauce in your local store. There is fire roasted, basil and garlic, chili and lime....you name it! The great thing about the infusion of flavors into your can of tomatoes is that you don't have to buy the basil, lime, etc.
I found a can of diced tomatoes that was flavored with cilantro, chili, and lime and added it to two cans of rinsed beans in my blender. WHIIIRRRRR.
Soup!
This isn't just any soup. In one cup, there is 20% of your daily value of iron and 11 grams of fiber.
Actually, my husband thought it was dip and started to get out the chips. Hey, stop ruining my healthy lunch! In it's room temperature form this soup is thick enough to be a dip. Heat it up and you have a hearty thick soup.
Serve this with some tortillas or crackers. Put this in a thermos for your lunch. Everyone will think you are a real chef! (don't tell them about the cans)
How do you make black bean soup? Please share.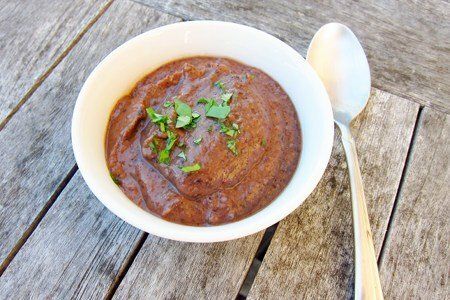 No Cook Black Bean Soup
(makes 4 cups)
Ingredients
2 15 ounce cans low sodium black beans
1 15 ounce can diced tomatoes with flavors (for example: fire roasted)
Instructions
Drain black beans and rinse them. Put them into a blender with the can of diced tomatoes including the tomato juice. Blend until smooth.
Pour into pan and heat to soup temperature or use a microwave safe bowl and heat.
Nutrition Facts
One cup is 227 calories, 0 g fat, 40.2 g carbohydrates, 3.1 g sugar, 14.3 g protein, 11.0 g fiber, 395 mg sodium, 0 SmartPts
Points values are calculated by Snack Girl and are provided for information only. See all Snack Girl Recipes
---
currently unavailable Buy on Amazon.com
As an Amazon Associate, I earn from qualifying purchases.
---
Other posts you might like:
---

I recently noticed that my favorite brew pub has a VEGGIE burger on its menu. Yes, we have shifted a bit when it comes to our burger consumption....
---

Snack Girl has been asked multiple times about canned soup and I couldn't bring myself to research the topic. Why?....
---
---
Get Free Email Updates! Yes please!
---