An Easy Dessert that is Almost Blueberry Pie
If someone rang my doorbell and said, "Hey could you make me dessert?" this blueberry pancake would be the one I would make.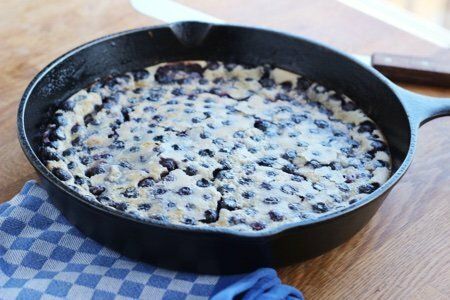 I doubt anyone would do this because my neighbors all think I am a healthy food nut. I might make them a kale smoothie and call it dessert.
The batter is made in a blender –whirrrrr – unless you don't have a blender in which case you can mix is with a whisk.
You pour the batter over frozen blueberries and when it is done it is a cross between a pudding or flan and pancake.
I love that you don't have to make a crust (or buy one) and all the ingredients are probably already in your pantry. You can make this with other fruit you have around the house like strawberries, apples, pears, blackberries, etc.
If I make this, my kids will demand it for breakfast. They will even get out of bed without complaining or faking that they are sick so they can stay home from school. Hey, it is better for you than Fruit Loops, right?
You don't need to make it in a cast-iron skillet. I did because I think it looks pretty – any pie pan will work.
What is your fastest dessert recipe?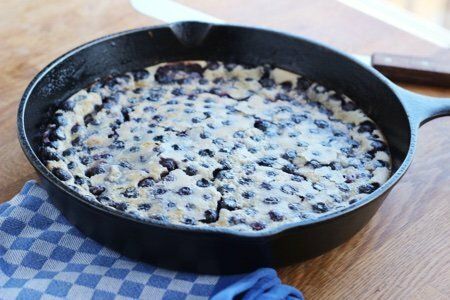 Blueberry Pancake Recipe

Makes 10 servings

Ingredients
1 cup whole milk (or whatever milk you have)
3 large eggs
¼ cup sugar plus one tablespoon for dusting
½ cup white whole-wheat flour
¼ teaspoon salt
½ teaspoon vanilla
2 tablespoons butter, melted
12 ounces (2 ½ cups) frozen blueberries

Instructions
Heat oven to 400 F. Butter a 9 inch pie plate or cast-iron skillet.
Put milk, eggs, ¼ cup sugar, flour, salt, and vanilla in a blender and mix until smooth. Add butter and blend for 30 seconds more. Place blueberries in bottom of pan and pour batter over them. Dust with tablespoon of sugar.
Bake for 25 minutes or until top of cake is slightly browned. Serve warm.
Nutrition Facts
For one slice (10 in a pancake) = 120 calories, 4.8 g fat, 2.4 g saturated fat, 16.6 g carbohydrates, 11.2 g sugar, 3.8 g protein, 1.4 g fiber, 106 mg sodium, 3 Points+
Points values are calculated by Snack Girl and are provided for information only. See all Snack Girl Recipes
Other posts you might like:
---

Making delicious baked goods without a ton of calories is difficult....
---

Snack Girl is already making her plans for Earth Day (April 22nd). I am going to celebrate with a picnic!...
---
---
Get Free Email Updates! Yes please!
---