Don't Buy This at the Supermarket
Someone told me about this new product from Oscar Mayer and I thought they were joking.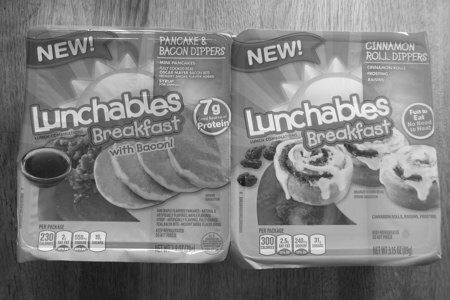 Noooo. They didn't make a Lunchables for breakfast, did they? I mean isn't the name, LUNCHables?
But, alas, this person was right. I know, dear readers, that you want me to be supportive and encouraging – but I do get angry at major food companies that aren't paying attention to an obesity epidemic in CHILDREN.
In 2012, more than one third of children and adolescents in the USA were overweight or obese. You may not think that food manufacturers are the problem but we all know they aren't the solution.
We can vote with our dollars, so I ask you not to buy this. Why?
Frosting for breakfast (no, I am not kidding)
Trans fat (thought this was phased out of all foods)
550 mg of sodium in pancakes version – wowza
31 grams of sugar or 6 teaspoons in cinnamon bun version –(40 grams in a can of Coke)
Here is what it looks like inside. I didn't use the black and white so you could see the food for what it is: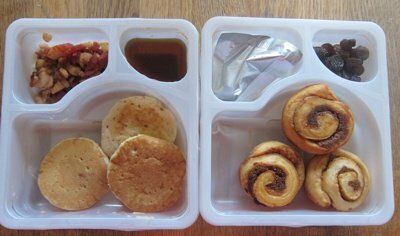 This is the polar opposite of eating the rainbow. I know how hard it is to make breakfast in the morning – I get it – but a bowl of Cheerios with milk and a banana is almost as fast as this – and it is so much better for you.
Here is the label for the cinnamon bun version: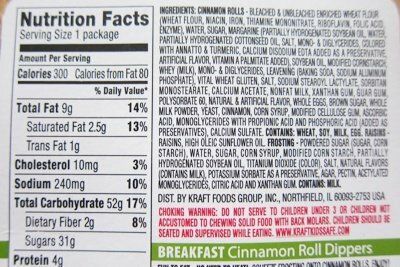 They use "titanium dioxide" as a color in the frosting – a chemical usually found in sunscreen. Ummmm, are they expecting kids to rub this on themselves as well as the cinnamon bun?
They include a "choking warning" that states "DO NOT SERVE TO CHILDREN UNDER 3".
My warning would be, "DO NOT SERVE TO CHILDREN, EVER"
Maybe this isn't really for kids – but adults. Are adults eating these things?
I know there are a ton of important causes out there – but this one is near to my heart. We need to send companies a message by not buying their products when they create crap that is not only bad for our health – but bad for the planet. Look at the packaging on this product!
Please share with your friends and/or share your opinion below.
---
Other posts you might like:
---

Snack Girl does not enjoy flaming food products. I would much rather find food that is good and champion it...
---

Do you know how children bug you for junk food? Well, I brought home a "Lunchables" for review on this site and my kids went bonkers....
---