How to Brine Chicken Breast **VIDEO**
Do you know how to brine chicken breast? It is like magic!
The alchemy here is using a technique called "brining" to transform bland, rubbery chicken breast into something wonderful. It doesn't take very long and it ensures your chicken will be moist.
Everyone knows that eating dry chicken is like sucking on a hockey puck. If you can avoid it, you will.
I also like using my slow cooker for a slow cooker chicken taco filling and for making a slow cooker whole chicken. I find that when I plan (and manage to get the chicken into the cooker in time), my chicken stays moist. Slow cookers are great for keeping liquid inside the dish.
Brining, on the other hand, enhances juiciness by ensuring that the meat absorbs liquid before it is cooked. This "extra liquid" protects the chicken from getting too dry as chicken will lose liquid as it cooks.
The best part is that it only takes 15 minutes! The chicken doesn't have to sit in a salt water bath for an entire day.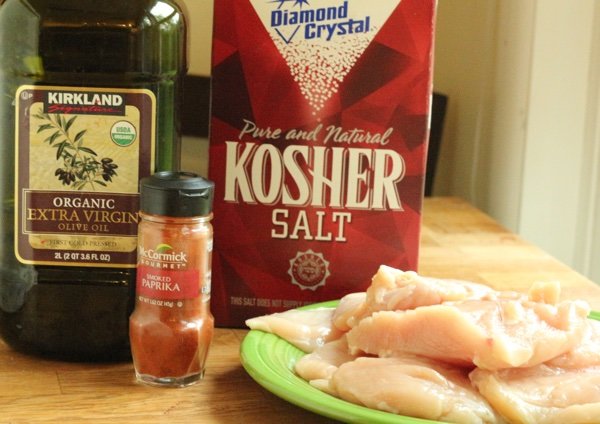 If you have an extra 15 minutes, this step will change your life. My kids, who usually demand chicken thighs because they find breast too dry – love this take on chicken breast.
I used small, boneless and skinless chicken breasts for this recipe. They were about 5-6 ounces each and I think if your chicken breasts are larger, you should cut them into smaller pieces so that the brine has a chance to infuse the chicken before you cook it.
Do use kosher salt for the brining step. You can find it below the regular salt and it gives the best result.
Smoked paprika can be found next the regular paprika and adds a whole level of flavor to the chicken. I use it a lot to add depth to a dish. It isn't necessary here so don't worry if you don't have it.
Serve this with a salad (I used baby arugula in the photo) and you have a simple, delicious, and low carb dinner.
WATCH THE INSPIRATIONAL VIDEO ☺
Have you ever tried brining chicken breast?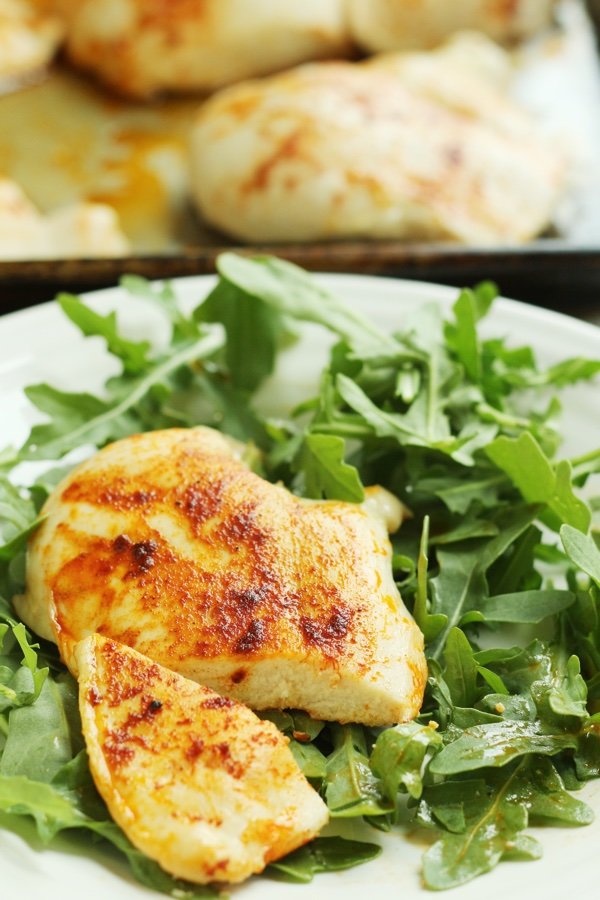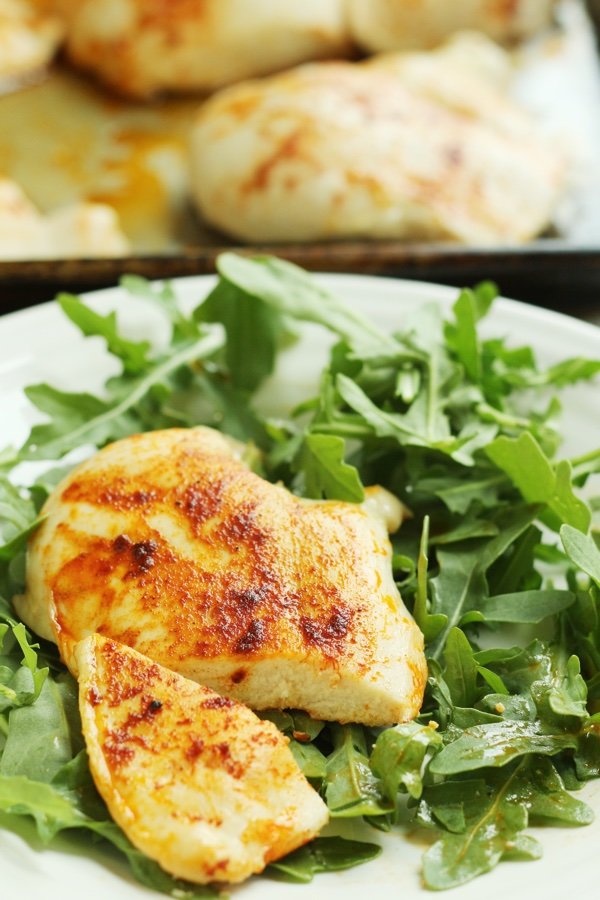 Brined Chicken Breast Recipe
Makes 7 breasts
Ingredients
7 boneless, skinless chicken pieces about 6 ounces each (2.5 pounds)
¼ cup plus ½ teaspoon kosher salt
½ teaspoon black pepper
1 teaspoon smoked paprika
1 tablespoon olive oil

Instructions
First, mix ¼ cup kosher salt in a large bowl with 1 quart of warm water. Immerse chicken breasts in salted water for 15 minutes and then rinse.
Heat oven to 450 F. Pat chicken dry with paper towels and put on a rimmed baking sheet. Mix ½ teaspoon salt, black pepper, and smoked paprika in a small bowl. Brush chicken on both sides with the olive oil and them rub the spice mixture on both sides.
Bake in the oven for 15 minutes until the chicken registers the internal temperature of 170 F. Let rest for 5 minutes and serve.
Nutrition Facts
One breast is 163 calories, 6.4 g fat, 1.9 g saturated fat, 0.3 g carbohydrates, 0 g sugar, 25.4 g protein, 0 g fiber, 234 mg sodium, 1 SmartPts
Points values are calculated by Snack Girl and are provided for information only. See all Snack Girl Recipes
Other posts you might like:
---

Tacos are a staple in my house because we can all agree that this slow cooker chicken taco filling is delicious....
---

There seem to be a never-ending source of recipes that use "cooked chicken"....
---
---
Get Free Email Updates! Yes please!
---