Built Bar Review - Do They Deserve the Hype?
This Built Bar review was inspired by a bunch of comments on a previous post and is my personal (non-sponsored) opinion of these bars.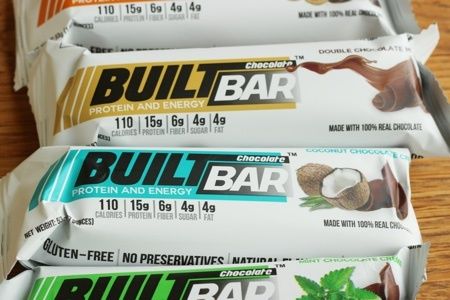 I wrote What Are the Best Protein Bars for Weight Loss? based on all the bars that looked good at my local Whole Foods.
I was looking for bars that tasted good, had a high amount of protein, and weren't high in calories. Last month, I took a look at Quest Bars here: Quest Bars Review. There are so many protein bars! Honestly, I don't know how anyone can choose. They take up an entire side of an aisle at my supermarket.
When you take a look inside the protein bar, you usually find a ton of sugar to make them taste really good. They can easily end up in the "treat" end of the spectrum when you are looking for a simple, protein packed snack. Many people are looking for something healthier than a cookie when they buy these bars - and sometimes the bar has more sugar than a cookie.
It is incredibly difficult to find a protein bar that tastes good and isn't packed with sugar. I have been looking for a long, long time.
I must say I had never heard of Built protein bars until Helene wrote this on my protein bar post:
Built Bars are only 3 points for the whole bar, not that I would eat it at once. I purchased the Double Chocolate Mousse, Chocolate Raspberry Creme, and the Chocolate Strawberry Creme. They have a marshmallowy consistency when you bite into them - delicious. I've also tried cutting them up into 6 pieces and putting them into the freezer. Feels like a little treat to grab a piece.
How could I not try them? Marshmallow? Treat? In a protein bar? Could these replace my favorite chocolate dessert? I decided to go out and buy my own box to see what all the hype was about. I was pretty excited when my box arrived.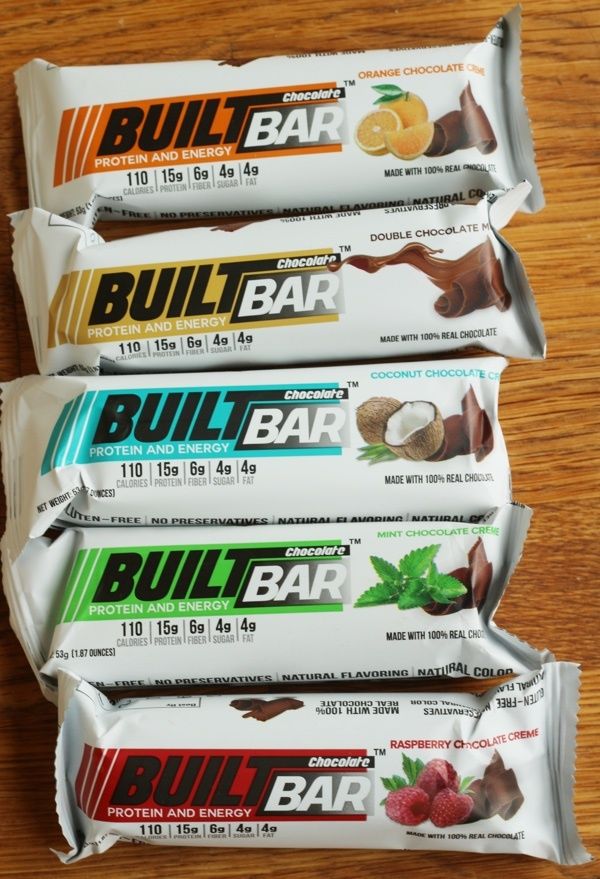 The only way to buy them is online at Built Bar and that is probably why I hadn't seen them at the store. Duh. You have to commit to a whole box to try them out.
You can buy a mixed box of them (which I would recommend) - 18 for $37 (free shipping). At the end of ths post is a coupon for $10 off your first purchase (for new customers) and 15% off repeat purchases.
These are very different from most of my previous forays into the protein bar world. Here are the nutritional facts for one bar:
110 calories, 4.0 g fat, 2.5 g saturated fat, 13 g carbohydrates, 4 g sugar, 15 g protein, 6 g fiber, 3 mg sodium, 3 Purple, 3 Green, 3 Blue SmartPts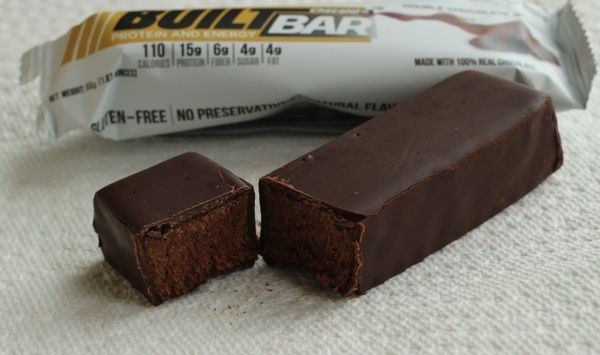 The nutritional profile of the bar is great because it doesn't have much added sugar.
Here are the ingredients: protein mix (whey protein isolate (milk), partially hydrolyzed whey protein isolate, gelatin, dark chocolate (chocolate liquor, sugar, cocoa butter, lechithin, vanillin), water, erythritol, glycerin, maltodextrin, natural flavor, citric acid
Somehow the makers of Built Bar made a product that reminds me of a 3 Musketeers bar but it doesn't have sugar or fat. The texture is like a marshmallow and it is wrapped in chocolate.
The chocolate actually tastes like chocolate - no small feat in the protein bar world.
I tried all of the flavors - the chocolate mousse (photo above) and the raspberry chocolate creme. I liked the raspberry flavor better. I don't like mint and chocolate so I knew I wasn't going to like the mint brownie delite which tasted like toothpaste. I would say the chocolate featured flavors are the most delicious flavors of Built bar.
Here is my ranking of best to worst for the original Built bars that I tried:
1. Double Chocolate Mousse
2. Raspberry Chocolate Creme
3. Orange Chocolate Creme
4. Vanilla Chocolate Creme
5. Black Cherry Chocolate Creme
6. Coconut Chocolate Creme
7. Banana Chocolate Creme
8. Salted Caramel Chocolate
9. Mint Brownie Delite (yuck!)

Since I ordered these Built bars there are flavors with nuts and you have to be careful because they are 4 points instead of three. These flavors are Peanut Butter, Coconut Almond, Banana Nut Bread, Peanut Butter Brownie, and Toffee Almond.
What can I say? I think these are better cold but they taste pretty good for what the ingredients might indicate. Initially, I thought they would taste like a science experiment but they remind me of a candy bar. They stick to your teeth a bit (like a Three Muskateers). I am actually surprised about how much these tasted like a childhood treat.
As an adult, my treats have gotten more sophisticated (think dark chocolate squares) so these don't hit my happy spot but I can see how people would love these.
You might even feel like you are cheating on your diet!
I have a small reaction to erthritol (tummy trouble) that I did not get with these bars probably because they don't use that much of it. I would not eat two in a day just to be on the safe side.
Overall, I think these are a good choice especially if you are a candy lover and want to wean yourself off of it. I like the idea of slicing these bars into pieces and having a chunk when you are craving something sweet. That way, you don't eat too much of it at once and you save yourself some money.
Some people absolutely love these and can't get enough. I definitely see the appeal because so many of us are desperate to stop eating sugary treats. If Built bar stops you from eating candy, cookies, or chocolate - why not get them? I would hope that they would be a stepping stone to a less processed option.
I wouldn't stuff these into my bag on a hot day because they would melt. In fact in some parts of the country, Built bars cannot be left on your doorstep because they would be a sodden mess when you got home. You need to keep these at room temperature or colder.
Do I think these are the best choice or a healthy choice? Because they are filled with processed ingredients instead of fresh, healthy food - I would not call them healthy.
For a healthy snack, I would eat unprocessed food (like an apple with peanut butter) when you can. But, I would stash one of these in my purse for those long days when I can't bring along something fresh.
Built Bar is donating 100% of their profits to help end poverty and racism for 8 million Built Bars.
Click here Built Bars and it will automatically give you the discounts at checkout:
15% off one box
30% off two or three boxes
50% off four more more boxes

Snack Girl is a professional review site that receives compensation for some products that we review. We are independently owned and opinions expressed are own own. We do have an affiliate relationship with Built Bar and receive a small portion of sales.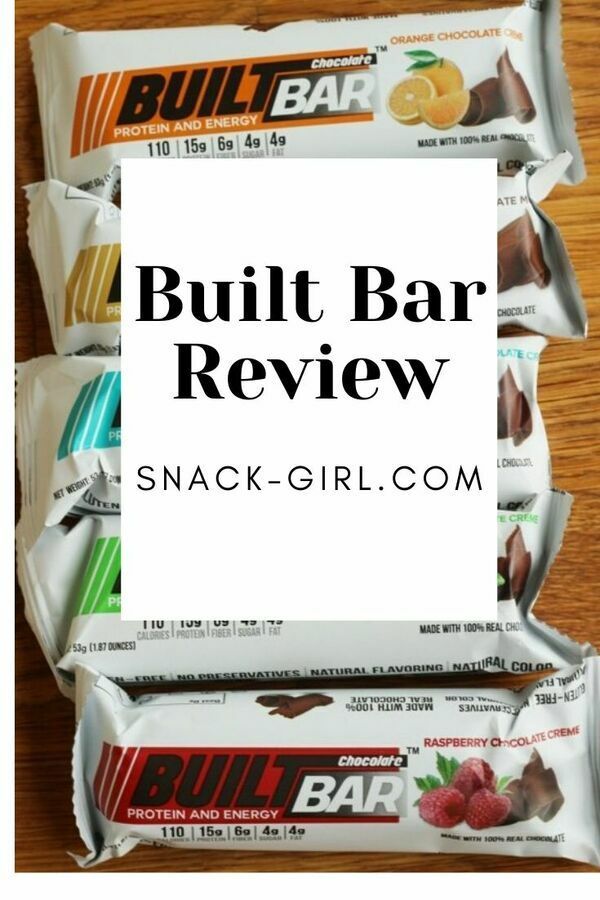 Have you tried Built Bars? What is your review?
Other posts you might like:
---

What are the best protein bars for weight loss? I can tell you that there are a TON of options.....
---

This Quest Bar review continues my quest for the perfect protein bar. The short version of this post is that my journey continues......
---