A Stuffing That Won't Leave You Stuffed
November 17, 2013
Are you ready for the holidays? They are coming fast.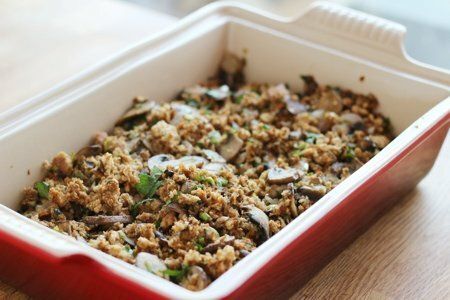 I like to freak out a couple weeks before they happen to get the stress out of my system. Then, I begin to plan.
This recipe for stuffing is the result of thinking about how I would feed a vegetarian and a vegan coming to my house for Thanksgiving. Do I want to order Chinese food for them? Yes, I do. But, I won't do that because I am too nice.
The key to making a flavorful stuffing without a cup of butter is to use flavorful ingredients. California Olive Ranch Extra Virgin Olive Oil has buttery and fruity notes and I use it for my salads as well as this stuffing. I first tasted it at an olive oil tasting in San Francisco - which was the first time I had ever noticed the different flavors in olive oil. I fell in love with California Olive Ranch and was thrilled I could find it in Massachusetts (far from California).
In addition to great tasting olive oil, I use mushrooms instead of sausage to lend that "meaty" flavor and onions, garlic, sage, scallions and parsley to hit all the herbal tastes. The mushrooms release their juices when they are sautéed so you don't need to add any stock.
Finally, I use whole wheat bread for the bread crumbs to add earthiness.
Do not buy bread crumbs to make this stuffing. It takes about ½ loaf of fresh bread and a food processor or blender to make your own and they are SO much better. I use my food processor to mince the onion and garlic, too.
Because I am lazy, I buy pre-packaged sliced and washed mushrooms. This cuts out a laborious step and we all need less labor on Thanksgiving.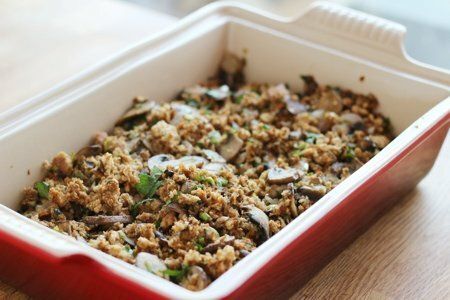 Vegan Mushroom Stuffing Recipe
Makes 6 servings, 1 cup per serving
Ingredients
¼ cup California Olive Ranch Extra Virgin Olive Oil
1 cup minced onion
1 teaspoon garlic, minced
1 pound washed and sliced white or bella mushrooms
6 cups 100% whole wheat bread crumbs (see note)
2 teaspoons dried sage
½ cup minced scallions
½ cup minced parsley
salt and pepper to taste
Instructions
Preheat oven to 325 F. Spray a casserole (9x13x2) with non-stick spray.
Heat olive oil in a large saucepan. Saute the onion, garlic, and mushrooms until mushrooms and onions soften and release their juices (about 10 minutes). Remove from heat and mix in bread crumbs, sage, scallions, and parsley. Taste for salt and pepper and put stuffing in casserole dish.
At this point, you can bake the stuffing or store it in the refrigerator for 2 days with a tightly sealed lid.
Bake for 45 minutes or until heated through and lightly browned on top.
Note: To make 6 cups fresh bread crumbs, pulse about 5 slices bread in blender or food processor. Put crumbs on a rimmed baking sheet and bake at 400F until toasted (about five minutes).
Nutrition Facts
A serving is 159 calories, 9.5 g fat, 1.4 g saturated fat, 15.1 g carbohydrates, 3.6 g sugar, 5.9 g protein, 3.2 g fiber, 119 mg sodium, 4 Points+
Points values are calculated by Snack Girl and are provided for information only. See all Snack Girl Recipes
---
This is a sponsored conversation written by me on behalf of California Olive Ranch. The opinions and text are all mine.
Sponsored by