Is Carnation Breakfast Essentials Necessary?
Snack Girl found herself watching a commercial for this product over and over.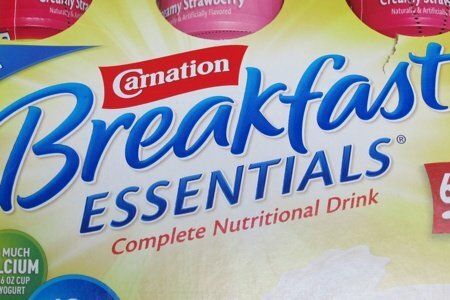 It featured a beautiful mother talking about how hard it is to ensure her child has the right nutrition (tell ME about it) and how her solution was to give her child one of these drinks as he leaves the house.
Is this drink going to save me from making breakfast? Man, I hope so.
Here is the ingredients list:
WATER, CORN SYRUP, MILK PROTEIN CONCENTRATE, SUGAR AND LESS THAN 2% OF VEGETABLE OIL (CANOLA, HIGH OLEIC SUNFLOWER, CORN), SOY PROTEIN ISOLATE, MAGNESIUM PHOSPHATE, POTASSIUM CITRATE, POTASSIUM CHLORIDE, SALT, CELLULOSE GEL, CALCIUM CARBONATE, SOY LECITHIN, SODIUM ASCORBATE (VITAMIN C), CHOLINE BITARTRATE, NATURAL AND ARTIFICIAL FLAVOR, ALPHA-TOCOPHERYL ACETATE (VITAMIN E), POTASSIUM HYDROXIDE, CALCIUM PHOSPHATE, ASCORBIC ACID (VITAMIN C), CARRAGEENAN, CELLULOSE GUM, PURIFIED STEVIA LEAF EXTRACT (SWEETENER), FERROUS SULFATE (IRON), ZINC SULFATE, VITAMIN A PALMITATE, NIACINAMIDE, VITAMIN D3, CALCIUM PANTOTHENATE, MANGANESE SULFATE, COPPER SULFATE, PYRIDOXINE HYDROCHLORIDE (VITAMIN B6), THIAMINE HYDROCHLORIDE, BETA CAROTENE, RIBOFLAVIN, FOLIC ACID, BIOTIN, POTASSIUM IODIDE, VITAMIN K1, VITAMIN B12.
Now, I know how hard it is to make breakfast and get your kids out the door because I do it every day, but I never thought to give them water and corn syrup instead of breakfast.
Carnation Breakfast Essentials is basically a protein drink with a multi-vitamin added and added sugar. The taste is beyond terrible - fake strawberry and SO sweet (they add stevia to be sure it is sweet enough).
This type of product drives me crazy because the advertisement is SO wholesome and the truth is that it is a terrible choice. Why?
It has 3 teaspoons of sugar.
240 calories of liquid will leave your child hungry in an hour.
You cannot substitute for healthy food with vitamin supplements.
Food contains thousands of micronutrients, fiber, and more that works together to make you healthy. No cocktail of supplements, such as Carnation Breakfast Essentials can take the place of food.
This package cost me $6 and would last only 3 days in my house (I have two kids). A children's multi-vitamin is a much cheaper option and would help assuage my guilt when I feed them a doughnut to start the day.
No, my kids don't eat steamed vegetables and brown rice for breakfast EVERY day ☺
You can do better than this drink - read Snack Girl and get FAST and healthy breakfast ideas. Takes one minute tops. Believe me - you can do it.
---
Other posts you might like:
---

Snack Girl has a confession to make. She has snuck in lots of breakfast ideas on her "snack" website....
---

Wow! That guy is driving, eating, and talking on the phone. How does he do it?...
---