Top Ten Healthy And Yummy Breakfast Ideas
Snack Girl has a confession to make. She has snuck in lots of breakfast ideas on her "snack" website.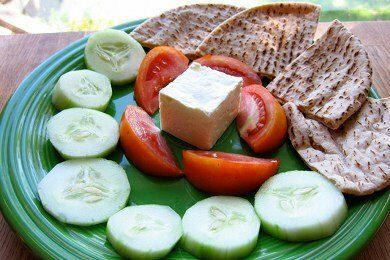 Why? I think that breakfast is one of those opportunities that we miss, especially as Americans (sugary cereal, bacon, deep fried hash browns, etc.) to eat healthy. And, it is considered THE most important meal of the day.
On the contrary, an Italian friend of mine has a shot of espresso and a cigarette for breakfast. hmmm.
Last week, Kelly sent me this request:
I am not really into the normal breakfast foods, and have a really hard time eating well at breakfast. Do you have any suggestions of quick and easy, yet not to bad for me?
First off, stay away from anyone suggesting coffee and a cigarette.
YES, I do have many ideas that I have compiled over the last 2.5 years of writing for this website. They range from INSTANT (greek yogurt and nuts) to more complicated (baked oatmeal).
Hopefully, you will find some ideas here that will help you get a good breakfast habit going.
1.

Try This Breakfast Solution: Faster and Healthier Than Cereal
2.

Rethink Your Breakfast: Turkish Style
4.

A Grab 'N Go Breakfast With ZERO Added Sugar (and you will love it)
5.

Healthy Baked Oatmeal **VIDEO**
6.

This Green Smoothie Does NOT Taste Like Grass
8.

This Muffin Can Save Your Life
9.

Why Don't Americans Serve Eggs Like This?
Please share your favorite breakfast ideas for Kelly (and the rest of us).
---
Other posts you might like:
---

I am betting that you are sitting in an office right now! Yes, I can see you in your cubicle with the florescent bulbs burning. Blub blub goes the water cooler.....
---

Are you financially stretched? Honestly, who isn't feeling the pain of our economic downturn?...
---