An Entire Serving of "Fries" for 133 Calories
Snack Girl can hear you all. Those aren't fries, those are carrots!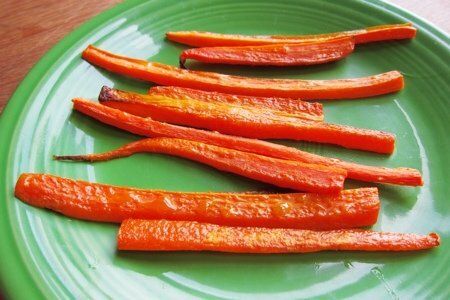 These, my dear readers, are "carrot fries" and they pack a wollop of flavor and vitamin A (758% of your daily value!!).
I found myself making these because I had too many carrots in my fridge. I peeled the carrots and sliced them as thinly as I could without taking off any of my fingers. As I was working, I ate some of the crunchy fresh carrots.
After roasting them, I found the carrot flavor to be intense. These were like "super carrots" and I couldn't stop eating them.
Non-stop carrot eating, as we all know, has taken down entire civilizations. I'm looking at you, Rome.
Fries are very hard to stop eating, so why not make them with another root vegetable?
The photo above is not of the entire serving. My serving size here is 8 ounces - half a pound of carrots! This photo is representative of about 1/4 of a serving.
Give these a try and let me know what you think.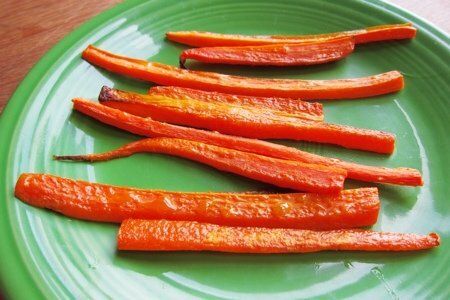 Carrot Fries Recipe

Makes 1 serving

Ingredients
½ pound carrots, peeled
1 teaspoon extra virgin olive oil
salt to taste

Instructions
Heat oven to 450 degrees. Line a rimmed baking sheet with parchment paper. Slice carrots into thin strips about 4 inches long and ¼ inch wide.
Toss carrots, olive oil, and salt on baking sheet and roast for 20 minutes or until the ends start to blacken.
Serve immediately.
Nutrition Facts
133 calories, 5.2 g fat, 21.7 g carbohydrates, 10.8 g sugar, 2.1 g protein, 6.3 g fiber, 156 mg sodium, 3 Points+
Points values are calculated by Snack Girl and are provided for information only. See all Snack Girl Recipes
Other posts you might like:
---

Don't those look delicious? Mmmmm, carrots....
---
Do you want to sneak some veggies in without anyone noticing? Use the sushi method of vegetable hiding....
---
---
Get Free Email Updates! Yes please!
---