Fried Rice For Under 200 Calories
Snack Girl knows what you are thinking. Everyone loves rice, but how could you make it low in calories?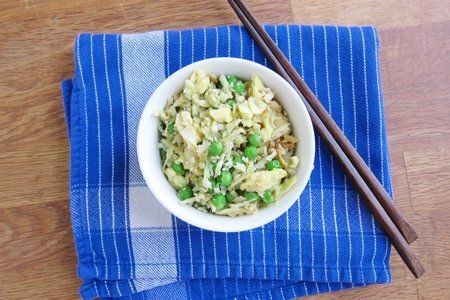 The key isn't some magical manufacturing method. But, I do use a magic ingredient. When I say "magic", I mean it grows from the earth with the addition of sun, water, and a farmer's vigilance.
Cauliflower! One cup of raw cauliflower has 25 calories and 77% of your daily value of vitamin C. One cup of cooked rice has 205 calories and 0% of your daily value of vitamin C.
Do you see how cauliflower could be a healthy substitute and shave some inches off your belly?
To make this special fried rice, you must start with Cauliflower Rice. All you do is grate or finely chop cauliflower and microwave it for 6 minutes until it is soft. I use my food processor's grater attachment and this takes less than 10 minutes (unlike cooking real rice).
Then, you get out your frying pan or wok if you have one and add some other ingredients. I used eggs, peas, and teriyaki sauce. If you don't have teriyaki, you could use soy sauce or just skip the sauce all together.
This is great cold or room temperature and can be made ahead to put in your lunchbox.
Have you tried cauliflower rice?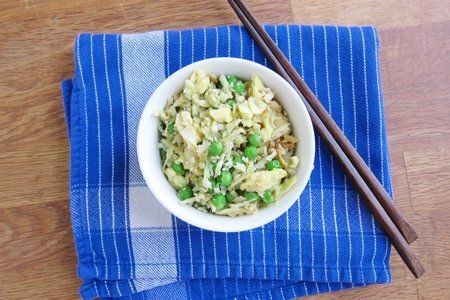 Cauliflower Fried Rice Recipe

Makes 2 servings

Ingredients
2 teaspoons canola oil
2 eggs
½ cup frozen peas
2 cups cauliflower rice (see Cauliflower Rice)
1 tablespoon Teriyaki sauce

Instructions
Heat oil in large frying pan to medium heat. Add eggs and scramble. When eggs are to your liking, add peas, cauliflower rice, and Teriyaki sauce. Mix and cook until heated through.
Nutrition Facts
170 calories, 9.4 g fat, 13.6 g carbohydrates, 6.6 g sugar, 9.8 g protein, 4.7 g fiber, 215 mg sodium, 4 Points+
Points values are calculated by Snack Girl and are provided for information only. See all Snack Girl Recipes
Other posts you might like:
---

This low calorie rice is a win-win substitute for real rice......
---

For me, the challenge with cauliflower is making it taste like something. Bland food is simply not enjoyable to eat and I want to enjoy my food!
---
---
Get Free Email Updates! Yes please!
---