Love Rice But Want To Cut Calories? Try This
Snack Girl did something different the other day to her favorite "rice and bean" bowl. She substituted a vegetable in the bowl above.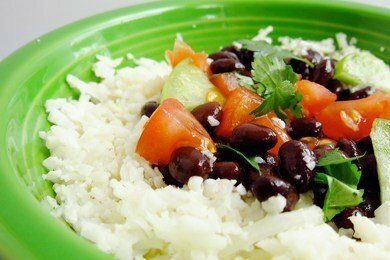 Which one you ask? Well, that is a photo of my rice bowl with cauliflower now renamed: "Cauliflower and Bean Bowl".
When I wrote about cooking brown rice, a reader asked:
Do you have any ideas why brown rice and white rice both have 4 points plus? I like brown rice just as much as white and the rice cooker makes it easy to make either but I am discouraged by the 4 points per serving for either.
Yeah, it is a steep amount of calories per serving because it is a grain. Just like it is almost impossible to have a low calorie baked good because of the wheat - rice is a staple that is packed with carbohydrates.
One way to reduce calorie consumption is to reduce the amount of pasta, bread, and rice that you eat.
Now, I am not advocating for a low carb diet such as Atkin's or Zone. I am just saying that a cup of rice is around 200 calories (without adding butter) and ridiculously easy to eat without noticing how much you have consumed.
You ever measure how much rice comes in one of those take-out containers from the Chinese place?
Cauliflower is a vegetable so it has many fewer calories per serving - only 50 calories for an entire cup. So, you are saving 150 calories by substituting cauliflower for rice.
Fortunately, making "cauliflower rice" is almost as easy as making regular rice. All you have to do is grate a cauliflower into a bowl and microwave! If you don't own a microwave, you can steam the cauliflower on the stove with a 1/2 cup water in a covered pot. Just drain it when it is done.
I store my cauliflower in container and just substitute it for my favorite rice dishes. Above is a photo of my beans, salsa, and rice bowl which is inexpensive and easy. All I do is add some canned beans (drained), salsa, and a little cheese and heat it up for a fast lunch.
A couple of readers asked me to make a low-carb version of a pizza crust using rice cauliflower. I attempted it - but it was mixed with cheese and it stuck to the cookie sheet. I got out my chisel to try and unstick it - but it took a jack hammer to get it off.
I'm not sure 1 cup of cheese in a crust is much better than just a regular pizza crust - though it is low in carbohydrates.
Please share your favorite additions to rice and Rice Cauliflower.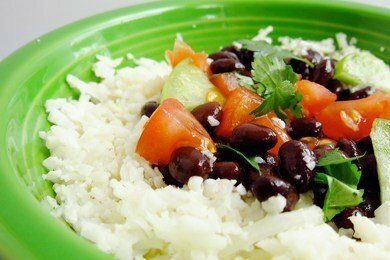 Cauliflower Rice Recipe
(makes 8 cups)
Ingredients
1 head cauliflower
Instructions
Grate or chop the cauliflower into very small pieces the size of rice kernels. Heat cauliflower in a microwave proof bowl for 3 minutes and stir. Repeat until tender (6-8 minutes). Enjoy! Store in your fridge for up to one week.
Nutrition Facts
One cup is 25 calories, 0.1 g fat, 5.3 g carbohydrates, 2.4 g sugar, 2.0 g protein, 2.5 g fiber, 30 mg sodium, 0 Points+
Points values are calculated by Snack Girl and are provided for information only. See all Snack Girl Recipes
Other posts you might like:
---

For me, the challenge with cauliflower is making it taste like something. Bland food is simply not enjoyable to eat and I want to enjoy my food!
---

Hey, we all want to be beautiful. How about trying some brown rice to aid your efforts?...
---
---
Get Free Email Updates! Yes please!
---