What Would You Advise the President of Cereal?
Some influential people get to visit the White House to meet the president as part of their job. I get to visit Minneapolis.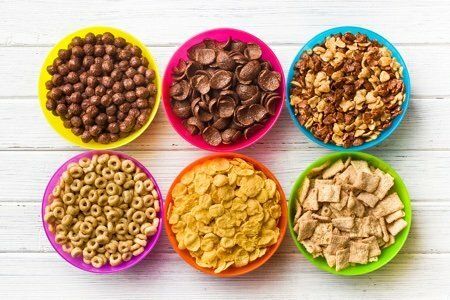 Why Minneapolis? The headquarters of General Mills is there and I have a meeting with the head cereal honcho – and, no, I am not making this up.
Ordinarily, they don't allow me inside places such as corporate headquarters because I have been known to stand outside of them with a sign of some sort (once I was photographed outside of a Gristedes protesting juice boxes) but General Mills thinks Snack Girl can behave. I believe they think I might actually be helpful.
General Mills produces Cheerios, Chex, Kix, Fiber One, Lucky Charms, Total, Trix, Wheaties, among others.
When I shared on Facebook that I had this meeting with the cereal boss, my buddies all started telling me what I should convey for them. It occurred to me that my readers here on Snack Girl might also have something to say.
Breakfast cereal is on the decline here in the United States as we have begun eating all sorts of things for breakfast (quinoa, anyone?). When I was growing up, it was either Corn Flakes or Cheerios for breakfast. In 2015, my kids eat all sorts of things to start their day and, yes, sometimes they eat cereal.
What do I have to say to the cereal chief? I have not thrown packaged cereal under the bus like many of the "real food" bloggers with whom I hang. I think that you can find good ones if you follow my Healthy or Crappy Cereal Test.
I would, of course, like to see more cereal that passes the test (less sugar, whole grains, high fiber).
I am not going to Minneapolis until May so I have plenty of time to collect opinions.
Please share your respectful comments, questions, advice, and thoughts below and I will print them out and bring them to share with Jim Murphy, President Big G Cereals.
I am happy to convey your disapproval as long as it is shared respectfully. Since they let me inside, I am going to engage in productive discourse and, hopefully, affect change.
---
Other posts you might like:
---

Packaged cereal is a quagmire of marketing HOOEY. For example, I have seen Kellogg's emphasizing high fiber on its boxes of "Apple Jacks"....
---

The longest aisle in the supermarket is the breakfast cereal aisle. It seems to stretch forever with boxes of so many colors and sizes. How is a person to choose the healthy option?...
---