The Three Step Process That Will Solve Your Cereal Dilemma
Packaged cereal is a quagmire of marketing HOOEY. For example, I have seen Kellogg's emphasizing high fiber on its boxes of "Apple Jacks".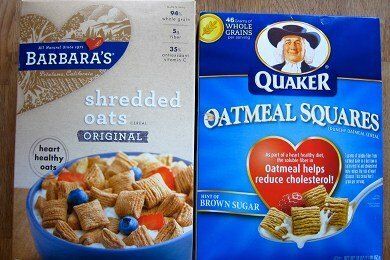 Yes, you will get fiber with your sugar and artificial colors and flavors - but that doesn't make it healthy.
What does make a packaged cereal a healthy choice? Last year, I came up with my patented "Healthy or Crappy Cereal Test" to help guide us in our cereal aisle problems.
I haven't found many cereals that pass my test - which makes life difficult. The ones photographed above - "Barbara's Shredded Oats" and "Quaker Oatmeal Squares" are interesting to me because they taste almost exactly the same.
Barbara's brand, which you can find at Trader Joe's and Whole Foods, has a healthy halo that is has earned by being an alternative to mass market cereal like Quaker.
Interestingly, Quaker seems to have been paying attention to what customers want. Their oatmeal squares have whole grains, 6 grams of protein, and no high fructose corn syrup.
So, which should you choose?
---
Healthy or Crappy Cereal Test
1. Is the first ingredient whole grain? Yes! For both cereals, the first ingredient is whole oat flour.
2. Is there 5 grams or less of sugar per serving? No! Quaker has 9 grams per serving and Barbara's has 12 grams per serving.
3. One serving must provides at least 4 grams of fiber. You can remember this one with Four Fiber. Yes! Both cereals have five grams of fiber.
---
At my local store, the Quaker cereal was $4 for a 16 ounce box - Barbara's was $4.10 for a 12 ounce box.
One more difference is that Quaker included artificial colors #5 and #6 in their ingredients. Why? I have no idea.
So, Quaker wins the healthier cereal battle. Yes, I wish there was less sugar in it but it tastes good and you can always mix it with a ZERO sugar added cereal like Cheerios or Shredded Wheat.
Perhaps the BIG BOYS are starting to get the message. We want packaged cereals that include actual nutrients and less sugar to start our day.
Have you tried either of these cereals? What do you think?
---
currently unavailable Buy on Amazon.com
As an Amazon Associate I earn from qualifying purchases.
---
currently unavailable Buy on Amazon.com
---
Want to read about snacks?
Support Healthy Snacking With A Snack Station
Embrace Fall With This Pumpkin Themed Skinny Drink
Looking For A Healthy Halloween Candy Option? Problem Solved!
Dress Your Oatmeal Up For Halloween