Cheap Eggs - Should You Buy Them?
Does anyone else get concerned when they see a tag like the one above? Ninety-seven cents for eggs?!!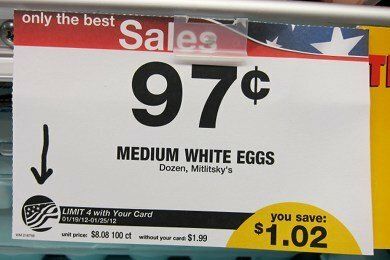 I feature eggs in many of my recipes and I like them. For all the nutrition they pack in - they are low calorie, fast to cook, and delicious. One large egg has:
72 calories, 5.0 g fat, 0.4 g carbohydrates, 6.3 g protein, 0 g fiber, 70 mg sodium, 2 Points+
An egg also includes 5 % of your daily value of iron and vitamin A. Remember the yolk is the nutrient sack to help the chicken embryo grow into a chick. There's a lot of good stuff in there.
Since I buy and eat a lot of eggs, I don't just buy any brand. My favorite brand was a local farm that my supermarket stocked. I paid $3.49 for a dozen of the most fresh and lovely eggs that I have ever eaten.
Then something sad happened. This local farm decided to close because they couldn't keep up with the latest federal government regulations regarding eggs. Yes, I almost drove down to Washington, DC to strangle those turkeys for messing with my eggs.
I found myself buying the supermarket brand of eggs because that was all the store had stocked. Was I concerned about the quality of the $2 per dozen eggs? A little, but what I found was truly disturbing.
I decided one Sunday morning to make my family some soft boiled eggs and I only had the supermarket brand. As I put them in the water, they cracked. All of them! The shell wasn't hard enough to hold the egg together when it hit the simmering water.
Then, I tried to serve them and they tasted like, well, sulfurous crap. They were inedible - the inedible egg. And, yes, I was mad! Where were my lovely eggs?
I decided to drive to the store and throw them at the store windows. No, I didn't do that - but I did dream about it for a couple of seconds.
I didn't realize until I tried the cheaper generic eggs that I had not only been paying for LOCAL but I had been paying for a quite superior product. What did they feed these chickens at the supermarket farm? Clearly it wasn't the same food they were serving at the local farm.
The factory farm that produced the supermarket egg may have saved me money - but is that savings worth it? The quality of feed for ithe chickens and how they are treated is important to the end product.
I don't think making a cheap egg is a great idea. Hey, I like a deal but this isn't where I am going to cut costs.
And, now, you are going to ask me which eggs are the best, organic? cage free? omega-3? etc. etc. I believe I am spoiled because I have found another local egg farm and their eggs are great. The yolks are orange, they aren't watery, and they taste divine.
If you can find local eggs that cost a bit more and fulfill the above requirements, you are going to do well. I live in the middle of nowhere (near farms) so I can find great eggs.
Where do you find great eggs? Do you find cheap eggs to be a problem?
---
Other posts you might like:
---

Snack-Girl is a working mother and sometimes she doesn't get around to things as timely as other food writers. I would say most food blogs featured deviled eggs last week. Now that I have 2 dozen Hard Boiled Eggs in my fridge, I am ON IT!...
---

Snack Girl went "country" when she moved to the middle of nowhere. Plaid shirts, a pick-up truck, and cowboy hats have been added to my wardrobe....
---