Elegant, Easy, and Eggilicious
The best way to enjoy an egg doesn't involve any butter or cheese! Really! I know all those quiche lovers out there aren't going to believe me - but you have to give this a try.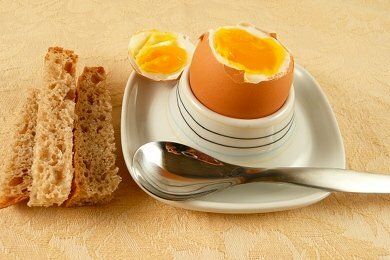 For some reason, after the American Revolution, the early British settlers moved away from a British style of cooking eggs called "soft-boiling".
Perhaps they needed to leave their ancestry behind or maybe they just forgot, but they BLEW IT because soft boiling is a delicious way to enjoy an egg (and it involves NO extra calories).
I was first introduced to this style of cooking in Australia. My husband is Australian, and he took me to breakfast in Melbourne and I had (get this) a soft boiled DUCK egg. I thought I had died and gone to heaven. But, it still took me almost 3 years to attempt this maneuver in my home.
Why? Because, you need to proper spoons and egg holder.
1. You need proper spoons to get the egg out
A teaspoon will not work as well as an egg spoon. Trust me - I tried it. The only place I could find them was Amazon.
---
$11.99 $10.95 Buy on Amazon.com
As an Amazon Associate I earn from qualifying purchases.
---
2. You need egg cups to hold the egg when you eat them
Again, not that easy to find. I went to Williams-Sonoma and they wanted to charge me $14 for ONE egg cup (French china). Who has $14 for one egg cup? This is when I start wondering about people who live in another universe than I do. These look like a good deal:
---
$23.95 ($2.99 / Count) Buy on Amazon.com
---
You scoop the egg out of the shell with the cute spoons. You do have to crack the egg in a certain way for all of this to work (it takes a couple tries before you become an expert). I found some great instructions here How To Crack a Soft Boiled Egg
For a mere 63 calories, you get this creamy and nutritious treat. I have mine for breakfast with a few "soldiers" of Toast. Just cut your 100% whole grain Toast into strips to dip in in the egg. YUM!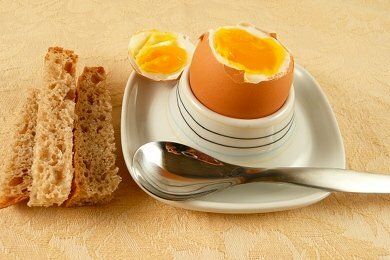 Soft Boiled Egg Recipe
Ingredients
1 egg
salt for pan

Instructions
Buy the freshest eggs you can find. Bring a small saucepan of water to a boil and add a dash of salt. Lower egg into boiling water with spoon to keep it from cracking.
Set timer for 5 minutes for a runny egg, 7 minutes for a harder one, and 10 minutes for a hard boiled egg. Remove egg from water with spoon and rinse under cold water. Place in egg cup and crack. Enjoy!
Nutrition Facts
63 calories, 4.4 g fat, 0.3 g carbohydrates, 5.5 g protein, 0 g fiber, 62 mg sodium, 2 Points+
Points values are calculated by Snack Girl and are provided for information only. See all Snack Girl Recipes
Have you ever tried soft-boiling an egg?
Want to read about snacks?
Olive Tapenade from Clean Food Cookbook
KINDa Fabulous: A Nutritionally Dense Snack Bar
Sneezing Your Way Through Spring? Try This Sweet Cure
A Chocolate Shake With Only 116 Cals
---
Get Free Email Updates! Yes please!
---