Cheeseburger Watch 2010: Day 21
I put in the Tubbie because all the photos are looking the same. The cheeseburger is now like one that you would buy at a novelty store. It is like a rock.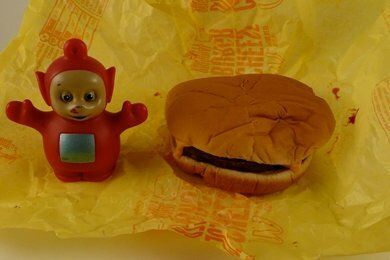 My hypothesis was that a cooked hamburger would rot - but now I believe it just dried out.
I could photograph it for 4 years and still have the same picture. What to do next? Any suggestions?
Here are the first 3 weeks of photographs:
Cheeseburger Watch 2010: Will it Rot?
Cheeseburger Watch 2010: Day 7
Cheeseburger Watch 2010: Day 14