A Summer Dish For The Winter: Cherry Tomato Gratin
Anyone else missing summer? I spend way too much of my time surfing for travel deals to warm places.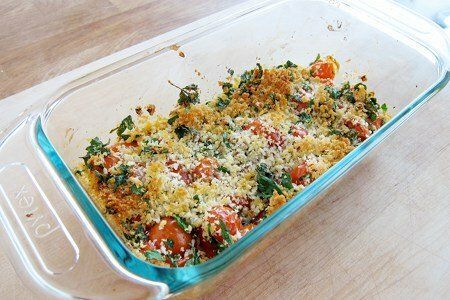 The problem with being a healthy food writer in winter is that I am supposed to come up with recipes and I want to be seasonal. Alas, there is only so much I want to do with potatoes, squash, more potatoes, and kale.
I miss tomatoes! I splurged and spent $3 on a package of delicious cherry tomatoes grown in Mexico. I know that some of you out there are preparing to flame me for such a move but a girls gotta do what a girls gotta do.
This is a simple dish and it gives the soft tomatoes a great CRUNCH with the bread crumbs. There is 24% of your daily value of vitamin C, so it might even help you fight off that cold that is coming.
Serve this as a side dish or an appetizer or just eat as a hot salad.
If you are offended by my out of season choice, bookmark the recipe for summer. It will be awesome when local cherry tomatoes start rolling into our markets.
How do you deal with the winter produce blues?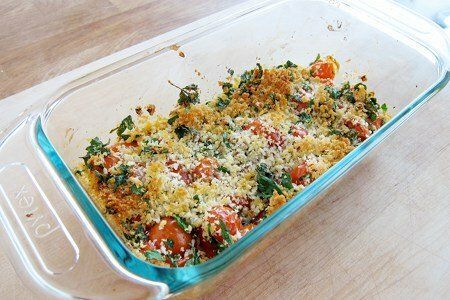 Cherry Tomato Gratin Recipe
Makes 4 side dish servings, ½ cup each
Ingredients
1 pint cherry tomatoes, sliced in half
1 teaspoon olive oil
½ teaspoon dried thyme

½ cup Panko bread crumbs (or any bread crumbs you have)
¼ cup fresh parsley, chopped
1 garlic clove, minced
¼ teaspoon salt
2 teaspoons olive oil

Instructions
Heat oven to 400 F. Mix tomatoes, thyme, and one teaspoon of olive oil in a bread loaf pan. Mix bread crumbs, parsley, garlic, salt, and 2 teaspoons olive oil in a small bowl. Spread bread crumb mixture over tomatoes and roast in oven for 25 minutes until bread crumbs are browned.
Serve warm or hot.
Nutrition Facts
98 calories, 4.4 g fat, 0.7 g saturated fat, 13.0 g carbohydrates, 2.8 g sugar, 2.6 g protein, 1.7 g fiber, 150 mg sodium, 3 Points+
Points values are calculated by Snack Girl and are provided for information only. See all Snack Girl Recipes
Other posts you might like:
---

For those of us who didn't can fresh tomatoes when we had the chance, this is a rough time of year.....
---

Can you believe those colors? You know how they say to "eat the rainbow". Here is your chance!....
---
---
Get Free Email Updates! Yes please!
---