Chicken Artichoke Recipe
This chicken artichoke recipe uses chicken thighs for a change. I have been getting sick of chicken breasts (but I still love chicken).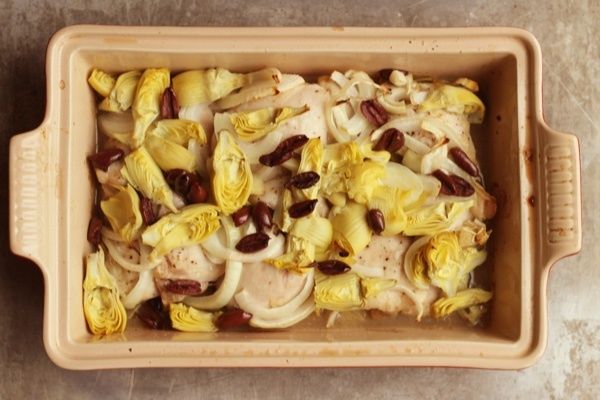 The Mediterranean diet has won best diet year after year and artichokes, olives, lemon and chicken is definitely on the plan.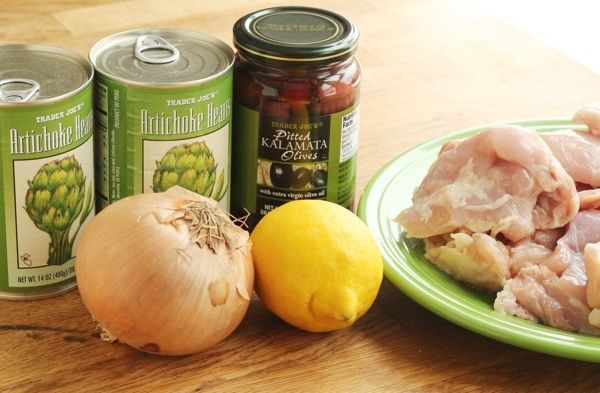 My chicken breast recipes have been well received see healthy baked chicken recipe with lemon and healthy baked chicken breast with Southwest rub. These recipes are so easy and chicken breast is a great source of protein.
My baked chicken artichoke recipe has the advantage of being a one pot meal. I am always looking for ways to only clean one pot (in this case the casserole dish). This dish is easy because you aren't really cooking – just dumping yummy ingredients into a casserole.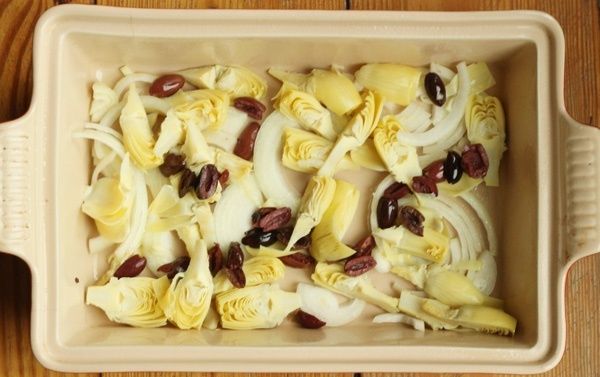 Slice the onion and toss the artichokes and olives in the bottom of the casserole. What you are trying to do is infuse the chicken thighs with the flavors of the vegetables.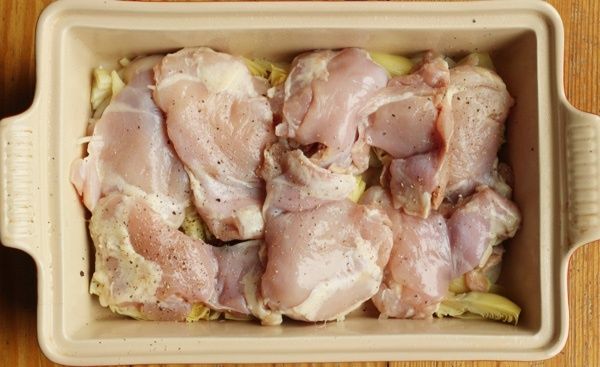 Add the chicken with some salt and pepper.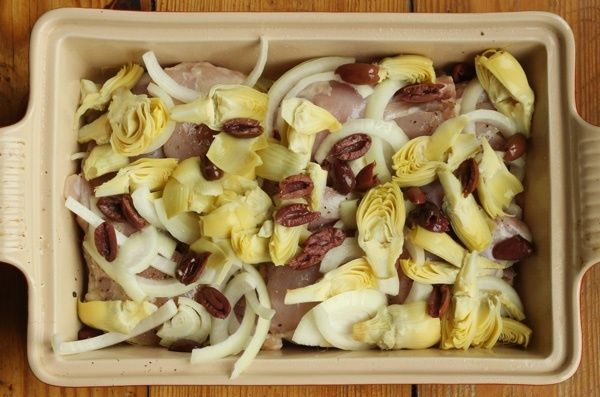 Layer with more onions, artichokes and olives and put it in the oven. It takes about 35 minutes and then you have dinner!
Do you know about artichokes? Artichokes packed in water (not marinated because then you are adding oil) are a great vegetable. One large artichoke contains only 25 calories, 170 milligrams of potassium, and is a good source of vitamin C, folate, magnesium and dietary fiber.
My daughter liked the chicken but wouldn't eat the artichokes and my son demanded a cheese sandwich instead. Oh well.
I could see this with oregano, sun dried tomatoes, feta cheese, or other flavoring agents to pop it up a bit. But, if you are in a hurry to toss a meal into the oven – this works.
Do you eat artichokes for dinner? How do you serve them?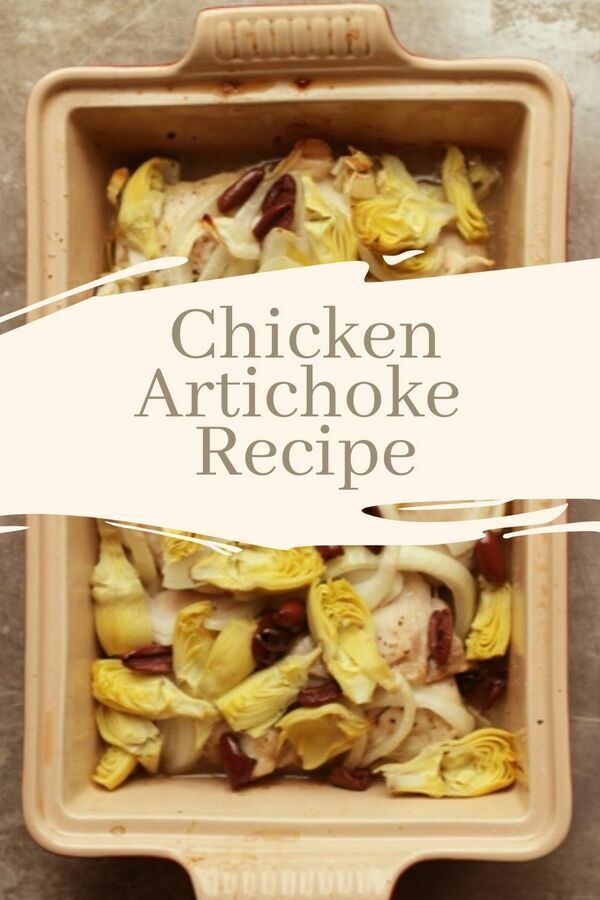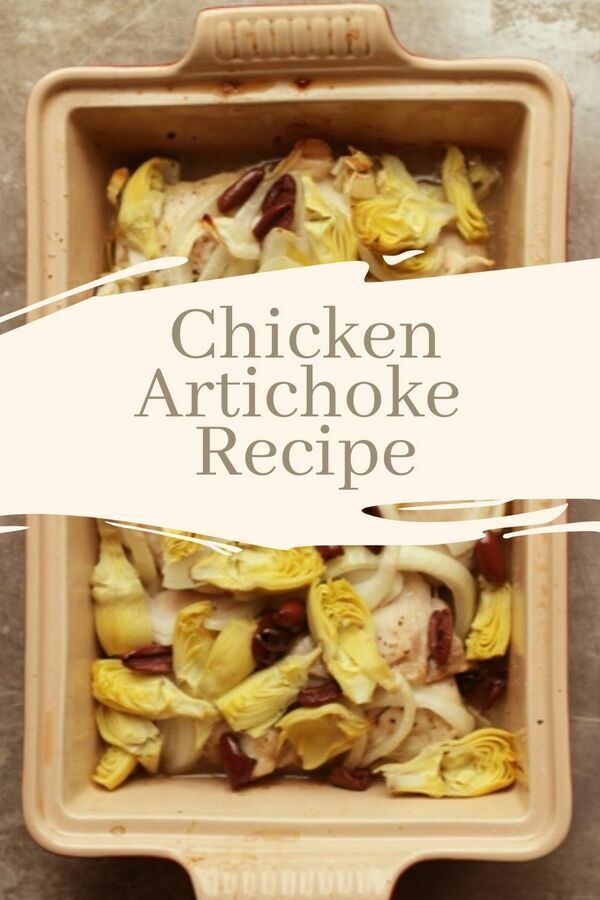 Chicken Artichoke Recipe

Makes 6 chicken thighs

Ingredients
1 ½ pounds chicken thighs, boneless & skinless (6 thighs)
2 14-ounce cans artichoke heart quarters in water, drained
1 large onion sliced
½ cup pitted Kalamata olives, halved
freshly ground pepper
½ lemon

Instructions
Heat oven to 350 F. Spray a 9x13 inch casserole with non-stick spray. Place ½ onion slices, 1 can artichoke quarters, ½ olives in bottom of pan. Layer chicken thighs over vegetables. Add one more layer of onions, artichokes, and olives. Dust with pepper and bake for 35-45 minutes.
When cooked the internal temperature of the chicken should be 165 F. Squeeze lemon over top and serve hot.
Nutrition Facts
For one thigh and 1/6 vegetables: 220 calories, 11.2 g fat, 3.2 g saturated fat, 9.0 g carbohydrates, 1.5 g sugar, 21.7 g protein, 5.7 g fiber, 400 mg sodium, 5 Green, 4 Purple, 4 Blue SmartPts
Points values are calculated by Snack Girl and are provided for information only. See all Snack Girl Recipes
---
Other posts you might like:
---

This healthy baked chicken recipe is for all the haters out there who don't believe you can do anything with skinless chicken breast.....
---

Healthy baked chicken breast is easy to make but can be really boring to eat. I will say it - I am sick of writing about chicken breast!....
---
---
Get Free Email Updates! Yes please!
---