How To Replace A Cinnabon
Snack Girl reserves black and white photos for foods that trigger people to eat. One of my pals told me that my photo of onion rings made her hungry and ever since then I use black and white.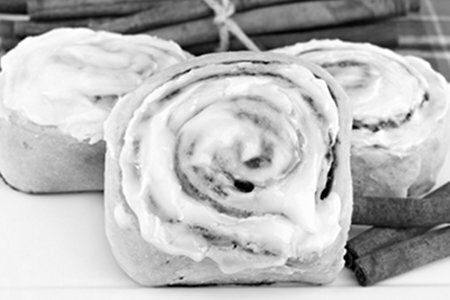 I don't want to promote Cinnabon's famous cinnamon rolls, but I do want to help a struggling reader.
From Catie:
Let me get this out there. I looooooove Cinnabon. I hope you can relate because of your "battle with doughnuts." I work in the mall and it is a struggle to stay healthy when I walk by Cinnabon to my store. The sugary smell is tantalizing and it is hard to resist such a delicious snack! (Or rather dessert!)
I went on their website and I was disappointed that I couldn't find exactly how bad these addicting treats were. I take that as a bad sign. I would like a Cinnabon makeover! Is there anyway frosted cinnamon rolls can be healthier! Please Snack Girl, fellow doughnut lover, can you help me?
Yes! I am a doughnut lover and I used to walk pass a delicious doughnut shop several times a day. I have also worked in a mall so I know the pain that you speak of - wafting smells of baking cookies (Mrs. Fields) bothering you in your store. If things are slow, you get really bored and start dreaming of a perfectly baked confection. I get it.
I was able to find the nutrition information for Catie - and it isn't pretty.
Here are the nutrition facts for a Cinnabon Classic:
880 calories, 36 g fat, 127 g carbohydrates, 59 g sugar, 13 g protein, 2 g fiber, 830 mg sodium, 24 Points+
For a Caramel Pecanbon:
1080 calories, 50 g fat, 147 g carbohydrates, 76 g sugar, 14 g protein, 3 g fiber, 960 mg sodium, 30 Points+
When I found this nutritional information, I just sat at my computer watching the cursor for a while....flashing at me. What can I say? This is just mind blowing.
You would do much better eating a 260 calorie doughnut. My first suggestion is just don't go near the Cinnabon and get a glazed donut instead - and, no, I didn't think I would ever write that a doughnut is a healthier choice. They have those great cake ones dipped in cinnamon sugar - you will be doing yourself a favor by eating one of those instead of a Cinnabon.
I know that Catie wants me to redo a cinnamon roll, but I think I will hold off on that and just offer some easier solutions until I get around to making my own version. I have made cinnamon rolls and they are a treat. I'm not sure that I can come up with a way to make them tasty and healthier.
Here are some suggestions:
Buy a container of cinnamon and sniff it while walking by Cinnabon. This may work! You might get all the cinnamon hit you need in your nose and be able to stop yourself from purchasing a bun.
Try a slice of wheat toast with the new Cinnamon spread from The Laughing Cow. You might have to sprinkle some sugar on this to make it work because it isn't very sweet - but you will get creamy and cinnamon together which is a good thing.
Make cinnamon toast for a snack and bring it with you.
I love cinnamon toast and if you pack it in a Glad container - it might still be fresh enough to hit that Cinnabon spot that is bugging you. When I was a kid, I used to make myself cinnamon toast as an after school snack.
It is just toasted bread, butter, cinnamon and sugar. How can you go wrong? If you use whole wheat toast, you are including a whole grain with the sugar, etc. You will save 752 calories and the cost of a Cinnabon by bringing this with you to work.
Give it a try, Catie, and let me know if it works.
How do you deal with Cinnabon?
The Laughing Cow product was received for review consideration. No other compensation was provided.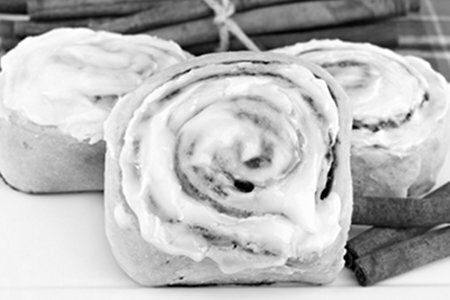 Cinnamon Toast Recipe
(serves 1)
Ingredients
1 slice whole wheat bread
1 teaspoon butter (1/3 of a tablespoon on the stick)
1/4 teaspoon cinnamon
1 tablespoon white granulated sugar
Instructions
Mix sugar and cinnamon in a small bowl. Toast the bread, spread the butter on it, and sprinkle with sugar cinnamon mixture. You will only need 1/2 of the sugar mixture to make your toast taste delicious. Save the rest of it for another Cinnabon attack.
Nutrition Facts
One slice = 128 calories, 4.8 g fat, 18.1 g carbohydrates, 7.9 g sugar, 3.7g protein, 2.0 g fiber, 159 mg sodium, 3 Points+
Points values are calculated by Snack Girl and are provided for information only. See all Snack Girl Recipes
Other posts you might like:
---

Today, I am featuring a guest blog post by Kristen of Be Fit With Kristen. Give her a cheer!....
---

So, you like to bake - but you have a problem. Yes, I know that problem well.....
---
---
Get Free Email Updates! Yes please!
---