Lessons From a Coconut
I was driving my minivan packed with soccer kids, drinking a pina colada.....when I woke up.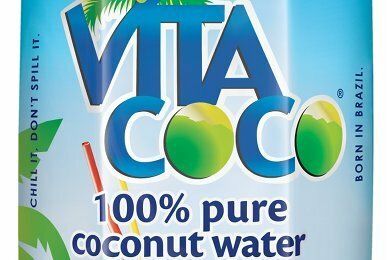 The truth - I was driving my 1994 Honda Civic, alone, drinking Vita Coco Coconut with Pineapple when I noticed an absence of a certain alcohol that usually gets added to a pina colada.
Which was a good thing!
Yes, I was having a tropical vacation in 30 degree weather in Massachusetts via drinking this lovely stuff. A friend of mine recently said, "What? You haven't tried coconut water?" and I realized I was missing something.
Of course, I have tried coconut water on a trip to Mexico from (guess, what?) a coconut! You just cut a whole in the top of a coconut, put a straw in, and drink.
Coconut water is not to be confused with coconut milk. Coconut milk has to be extracted through food processing and is high in calories. Coconut water is the liquid you hear sloshing about when you shake a coconut.
One cup of coconut WATER contains a mere 45 calories. It's a fabulous source of potassium - way better than a banana. And it has 175% of your daily value of Vitamin C!
It has 11 grams of sugar per serving which is significantly less than other juices. For example, apple juice has 30 grams of sugar for 8 ounces.
Keep in mind that:
Vita Coco comes in a 16 ounce bottle (not the 8 ounce serving size on the package).
The other flavors such as Vita Coco with Pineapple have more sugar per serving (16 grams)
What I like about it is that it tastes delicious and reminds me of soda. No, it doesn't have bubbles, but it does have a lovely sweetness. Millions of people in tropical areas drink this stuff when they are thirsty.
There are a couple of other brands out there (and this was the only one that I tried). This is a great substitute for higher calorie juices with less nutrients.
Unfortunately, my kids didn't like it :( - I think it wasn't sweet enough for them. I gotta cut them off the apple cider!
You can find Vita Coco in thousands of stores nationwide see here Find Vita Coco. I hope they start selling it in convenience stores/gas stations so I can grab it while on the go.
Have you tried coconut water? Please share.
---
$24.20 ($0.18 / Fl Oz) $22.95 ($0.17 / Fl Oz) Buy on Amazon.com
As an Amazon Associate I earn from qualifying purchases.
---
Want to read about snacks?
You Won't Miss The Butter In This Holiday Banana Bread
A Holiday Snack From Bran Appetit
A Healthy Tortilla
Check Out This Cookie (Scary)