You Won't Miss The Butter In This Holiday Banana Bread
Can you trick your pals into believing you used a stick of butter to make your banana bread? I think so!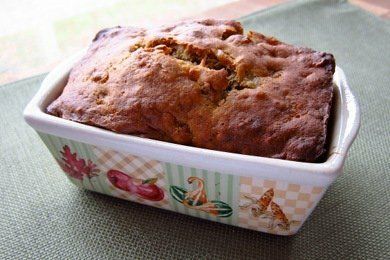 Snack Girl made this banana bread last year and substituted buttermilk and a little oil for the butter. Did anyone notice? No!
They didn't know that I had slashed the amount of saturated fat and some of the calories.
I even added a little whole wheat flour to the recipe for a nutritious bump.
This year I did two things differently:
1. I used just white whole wheat flour instead of the mixture of white and whole wheat (1 3/4 cup white whole wheat flour)
2. I made 4 SMALL loaves of bread.
The white whole wheat flour worked great! Everyone loved the banana bread and I was happy that my family got all the nutrients of a whole wheat flour.
Why did I make small loaves? Well, each of my loaves is 460 calories TOTAL. Even if you were to wolf down most of my banana bread in one sitting, you would be doing better than ONE slice of banana bread from Starbucks - 410 calories.
Also, I bet my friends would prefer a SMALL treat because of all the crazy holiday food that comes their way.
Give this as a gift and don't mention the substitutions. Wrap it in some holiday cellophane with a bow.
You will be a giving a healthy, yummy, homemade treat versus buying something that won't taste as good. (and you will save money :)
Please share your banana bread "tricks".
---
Buttermilk Banana Bread Recipe

(Makes 4 small loaves or 1 large loaf)
2 large eggs
1/2 cup sugar
3 mashed ripe bananas
1/3 cup buttermilk
1 tablespoon vegetable oil
1 tablespoon vanilla extract
1 1/4 cups all purpose flour
1/2 cup whole wheat flour
2 teaspoons baking powder
1/2 teaspoon baking soda
1/2 teaspoon salt
Preheat oven to 325 °F. Lightly grease a loaf pan. Using a whisk or a fork beat eggs and sugar in large bowl until thick and light. Mix in mashed bananas, buttermilk, oil and vanilla. Add flour, baking powder, baking soda and salt. Mix until just blended. Pour batter into prepared pan. Bake bread until golden brown on top and butter knife inserted into center comes out clean, about 1 hour (40 minutes if you are using the small loaf pans). Turn bread out onto rack and cool.
One slice of 10 in large loaf = 184 calories, 2.8 g fat, 35.9 g carbohydrates, 4.2 g protein, 1.5 g fiber, 204 mg sodium, 4 Points+
---
$14.85 ($14.85 / Count) Buy on Amazon.com
As an Amazon Associate I earn from qualifying purchases.
---
Want to read about snacks?
A Pumpkin Spice Latte With 77 Calories
A Holiday Snack From Bran Appetit
Try This Pumpkin Pie Makeover For Thanksgiving
Fast, Delicious, Healthy - What Else Could You Want?